Saudi, US cement partnership by signing deals worth 280 bln USD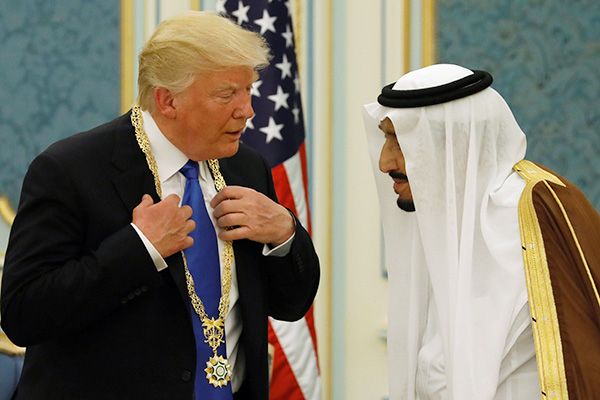 Saudi Arabia's King Salman bin Abdulaziz Al Saud (R) presents US President Donald Trump with the Collar of Abdulaziz Al Saud Medal at the Royal Court in Riyadh, Saudi Arabia May 20, 2017. [Photo/Agencies]
RIYADH - US President Donald Trump and Saudi King Salman bin Abdulaziz Al Saud signed on Saturday here a series of agreements worth 280 billion US dollars, Arabiya local news reported.
The agreements cover military, commercial, energy and petrochemical sectors and are expected to offer hundreds of thousands of jobs in both countries, Arabiya said.
The agreements came at a US-Saudi summit, which will be soon followed by Gulf-US summit and Arab Islamic US summit.
Trump arrived in Riyadh on Saturday morning as the first leg of his first foreign visits since his election as US President.