NY driver charged in deadly rampage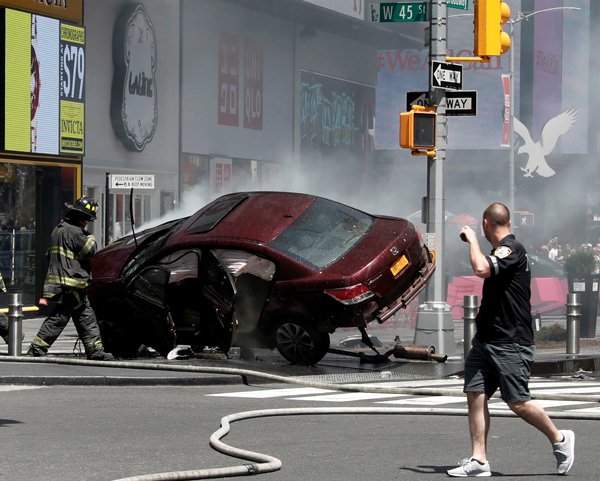 The vehicle that struck pedestrians came to a halt on a sidewalk in New York City's Times Square on Thursday after hitting a metal stanchion. [Photo/Agencies]
A US Navy veteran whose car plowed into pedestrians in New York City's Times Square, killing a woman and injuring 22 others, has been charged with murder and attempted murder, police said on Friday.
The incident on Thursday sparked fear in the US financial capital after similar deadly vehicle attacks in London, Berlin and Nice, France, but authorities said there was no evidence the crash was terror-related.
Richard Rojas, 26, from the Bronx, was arrested at the scene and later charged with second-degree murder, 20 counts of attempted murder and five counts of aggravated vehicular homicide, police said.
Officials said that tests showed Rojas had not consumed alcohol, but preliminary tests indicated he had used drugs.
The dead woman was identified as Alyssa Elsman, 18, from Portage, Michigan. Her 13-year-old sister was among the injured. Four of the injured were in critical condition, officials said.
The chaotic scene disrupted the heart of Midtown Manhattan on a sweltering afternoon for more than four hours, stranding workers in their offices and tourists wheeling suitcases.
Police said Rojas made a sudden U-turn onto West 42nd Street and drove north up the sidewalk for three blocks, passing tourist attractions such as the Hard Rock Cafe and the Bubba Gump Shrimp Co restaurant and plowing through people.
Rojas' burgundy Honda Accord sedan was smoking when it came to a stop on top of a metal stanchion at West 45th Street and Broadway.
Rojas had been arrested twice for drunken driving, in 2008 and 2015, and once earlier this month on suspicion of menacing. Court records showed that Rojas also was arrested at a naval base in Jacksonville, Florida, in September 2012, after yelling, "My life is over" and threatening to kill police.
In Times Square, "people were being hit and rolling off the car", said Josh Duboff, who works at the nearby headquarters of Thomson Reuters. He said he leaped out of the way to avoid being struck.
After the driver exited the car, Ken Bradix, a bouncer at Planet Hollywood, punched him to get him to stop, said Alpha Balde, a sightseeing-ticket seller.
"The bouncer from Planet Hollywood knocked him out," Balde told the New York Daily News. "He knocked him out so bad you could see the blood coming out of his face. That's when I jumped in, I grabbed him from his neck and within about one minute everybody's there."
Balde said he and Bradix jumped on top of Rojas, tearing his shirt to make sure he had no weapons, holding him until police arrived moments later.
"I ripped off his shirt," Balde said. "You have to make sure this guy doesn't have anything under his shirt that's going to damage you. So I ripped the shirt to find out no gun, no knife, no belt."
Rojas fought with officers who then handcuffed him, authorities said.
Planet Hollywood said Bradix "selflessly and heroically took action, helping to stop the fleeing suspect".
AFP, Reuters, the Associated Press and The New York Times contributed to this story.