Vote on health bill delayed in US House after talks yield no results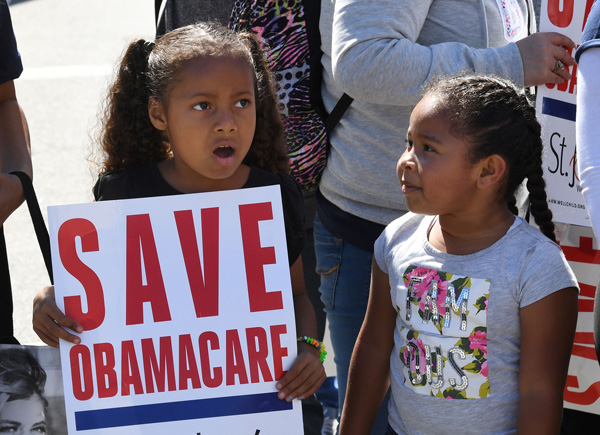 Young protesters march towards the Federal Building during a "Save the Affordable Care Act" rally in Los Angeles, California on March 23, 2017. [Photo/VCG]
WASHINGTON - US House Republican leaders on Thursday postponed a planned vote on a bill to repeal and replace the Affordable Care Act, known as Obamacare, as the White House failed to secure support of a group of conservative lawmakers.
The decision was taken after talks between the White House and the Freedom Caucus, the main opposition group, yielded no results.
"No deals" had been reached, Freedom Caucus Chairman Mark Meadows, who leads the conservative bloc in the House of Representatives, said after exiting talks with President Donald Trump.
Trump met the group at the White House in a bid to close a deal that would help secure passage of the American Health Care Act (AHCA), the vote of which was originally planned for later Thursday.
White House Deputy Press Secretary Sarah Huckabee said she predicted further discussion regarding the bill on Thursday and a vote on Friday.
House Republicans can only afford 22 no-votes from its own ranks for the bill to pass, but the Freedom Caucus said it has nearly 30 no-votes under its belt.
The bill, which was devised to repeal and replace the Affordable Care Act (ACA) ratified by former President Barack Obama, was the centerpiece of Trump's campaign promises and was backed by most House Republicans, including House Speaker Paul Ryan.
Ryan has previously made concessions on the bill to appeal to the Freedom Caucus, but failed to meet the group's demand. It is unclear if further changes will be made for a more convincing bid.
Members of the Freedom Caucus said the draft came short of the goal of repealing the ACA, as many of the regulations in the Obamacare were inherited by the AHCA, and they wanted a clearer break.
Trump has also personally weighed in on the matter, threatening GOP Congress members that anyone who doesn't support the AHCA will risk losing their seats in 2018.
While the president can not fire any Congress members, reports show that his support was instrumental for many sitting members to secure their seats in the 2018 elections.