Private companies play key role in Belt and Road initiative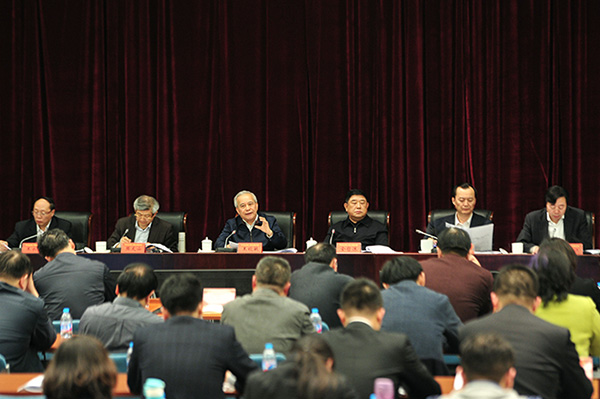 Executives from central and local industry and commerce federations, and private companies attend the conference in Beijing on March 21, 2017. [Photo provided to chinadaily.com.cn]
The value of newly-signed contracts has reached $126 billion, with Chinese private companies playing a more important role in investment to support the Belt and Road initiative, according to a conference held by the China Federation of Industry and Commerce in Beijing on March 21.
That's on top of the $1.45 million already pumped into the 53 countries and regions along the Belt and Road by China in 2016.
Private companies from different fields around the country shared their investment experiences in Belt and Road countries at the conference.
Conducting in-depth due diligence, especially with the assistance of professional third party institutions, is critical in preventing investment risks, said Nan Cunhui, chairman of Chint Group, a company focusing on industrial electrical equipment production and clean energy fields.
Localizing the operation, including purchasing local plants, recruiting local employees and cooperating with enterprises in destination countries are all effective measures to avoid trade barriers and increase competencies. Resource integration can also push forward supply-side reform at home, added the chairman.
Most Belt and Road countries have under-developed agriculture production, and they not only demand goods and technologies from China, but also integrated solutions. As Lin Yinsun, chairman of agricultural company Zhengbang Group said, the company promoted an "enterprise + farmer" mode and transferred local family workshops to factories in Angola, Egypt, and Bangladesh, and earned support from the tribe chief to the Agriculture Secretary in these countries.
Industry and commerce federations nationwide also play a key part in assisting smooth and effective exploration of private companies in Belt and Road countries.
Lei Yuanjiang, chairman of the Industry and Commerce Federation in East China's Jiangxi province, said they compiled Belt and Road documents for its member enterprises, and established a Belt and Road service center in October 2015.
The Federation formed an alliance in December 2016 to manage enterprise behavior and prevent vicious competition in overseas countries, which has attracted 126 member companies to date. The Federation also established connections with 54 federations in Belt and Road countries and regions and signed cooperation agreements with 22 of them.
According to Zheng Yuewen, chairman of the China International Chamber of Commerce for the Private Sector, the Chamber has completed signing MOUs with federations in Belt and Road countries, and plans to bring together leaders of chambers in Belt and Road countries for an annual summit starting this year.
Wang Qinmin, chairman of the China Federation of Industry and Commerce also pointed out pitfalls for private companies investing, including weak legal consciousness and risk awareness, and disorderly investment. The Federation plans to establish a registration mechanism for Belt and Road country investment and put it online in June this year.