Huawei's 'one-peso smartphone' causes sensation in Argentina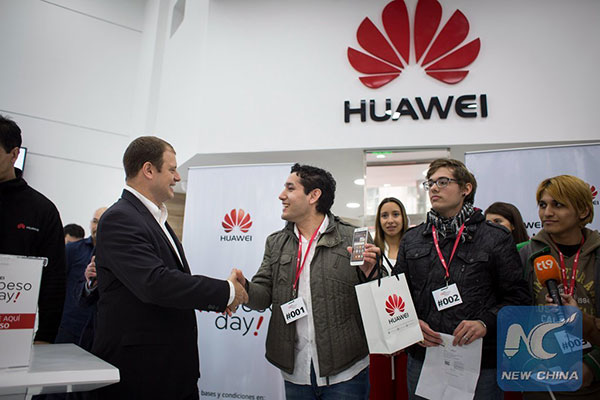 Huawei's Argentinean marketing director Rodrigo Ubeda (L) delivers the first Y6 smartphone to Nicolas Alganaraz (C), at a store of the telecommunication giant of China, in Buenos Aires city, Argentina, on Sept 30, 2016. [Photo/Xinhua]
BUENOS AIRES - Long queues, chairs to rest, security staff and excitement were registered here on Friday, thanks to Chinese telecommunications giant Huawei's decision to sell 300 smartphones at a symbolic price of one Argentine peso ($0.06 cent).
"The 'one peso day' allows 300 Huawei 'fans', that have previously registered on our webpage, to be able to buy a Huawei Y6, a mid to high end telephone, for only one peso," said Rodrigo Ubeda, the marketing director of Huawei Argentina, Uruguay and Paraguay.
According to the organizers, this smart cellphone is highlighted for its "8 Megapixel camera and an integrated audio system to play high quality music."
"I found out about it through a friend who shared it on Facebook and now I thank him," said Nicolas Alganaraz, the first in line to enter the Huawei store.
The young man said his original idea after enrolling on the webpage was to arrive on Thursday, the day before the event. However, the high demand made him change his plan.
"They told me that on Tuesday night there were already people (queuing). On Wednesday, I was first in line. It was hard to sleep on the floor on top of cardboard and nothing else. The past two nights were very cold," Alganaraz said.
The organizers told Xinhua that only the first 300 clients to arrive at the store were entitled to purchasing one smart phone at one peso.
Based in Southern China's Guangdong province, Huawei set up its Argentine branch in 2001, which now has over 500 employees, 70 percent of which are locals.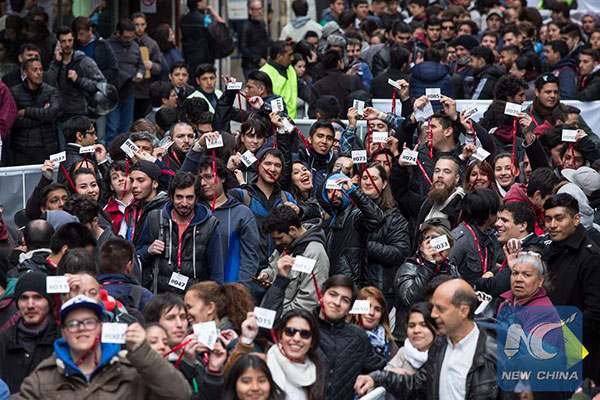 Registered buyers accumulate into a crowd outside a store of China's telecommunication giant Huawei, in Buenos Aires city, Argentina, on Sept 30, 2016. [Photo/Xinhua]