South Sudan's Machar returns to Juba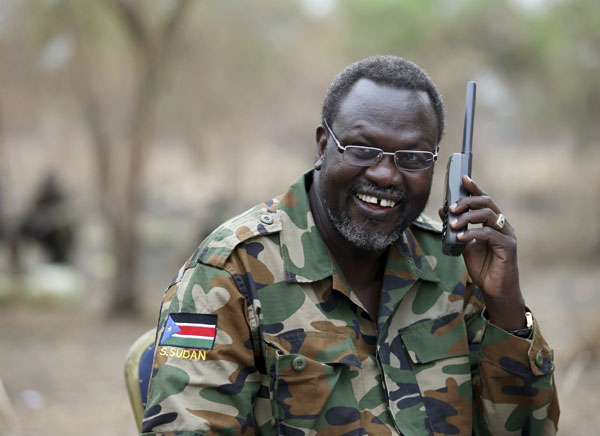 South Sudan's rebel leader Riek Machar talks on the phone in his field office in a rebel-controlled territory in Jonglei State, South Sudan, February 1, 2014.[Photo/Agencies]
JUBA -- South Sudan's rebel leader Dr. Riek Machar arrived in Juba on Tuesday, to take up the post of Vice-President as part of the August 2015 peace deal to end more than two years of civil war.
Machar who arrived aboard UN plane amid tight security from the government and opposition forces is expected to be sworn-in later Tuesday to mark the beginning of a 30-month transitional period.
The rebel leader had been expected to return on Monday but instead his Chief of General Staff General Simon Gatwech Dual returned with 195 troops including arsenal of weapons.
Analysts said the return of Machar who is due to form the unity government with President Salva Kiir would not end days of uncertainty over the implementation of the peace deal.
Information Minister Michael Makuei who termed Machar's arrival as a landmark in the implementation of the peace agreement signed last year between him and President Salva Kiir.
Machar's advance team and 1,370 protection troops have arrived in Juba despite continued clashes between his troops with the Sudan People's Liberation Army (SPLA) in Bahr el Ghazal and Equatoria regions.
Civil war erupted in December 2013 when President Kiir accused his former deputy Machar of planning a coup, setting off a cycle of retaliatory killings that have split the country along ethnic lines.
The conflict has reopened deep ethnic tensions in the world's youngest country, which only won independence from Sudan in 2011.