JW Marriot and AVIC International to build high-end complex in Kenya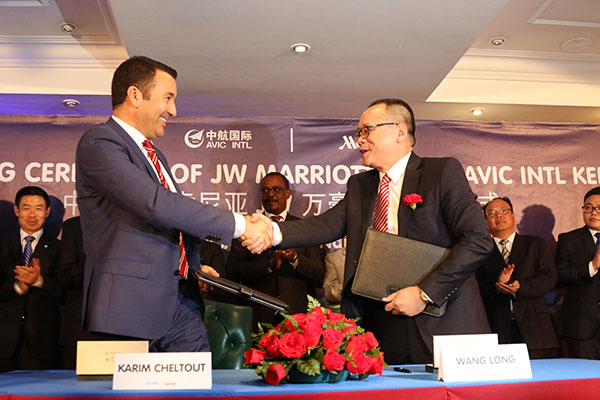 General Manager Wang Long and Vice President Karim Cheltout shake hands after signing the agreements. [Photo by Liu Hongjie/chinadaily.com.cn]
AVIC International's headquarters in Africa has solemnly entered into a cooperation agreement with JM Marriot Hotel of Marriot International as the signing ceremony was held in Nairobi, capital of Kenya, on March 23.
It marks the first time for JM Marriot to venture into East Africa and a new chapter in the history of cooperation between AVIC International and Marriot International.
General Manager Wang Long of AVIC International Real Estate Kenya signed five cooperation agreements including the Marriot Hotel Management Service Agreement with Karim Cheltout, Vice President for the Middle East and African Region of Marriott International. Officials from the Kenyan government, top management of AVIC International and Marriot International attended and addressed the ceremony.
Wu Guangquan, Chairman of AVIC International Holding Corporation, noted that as the only pivot of the Chinese government's "One Belt and One Road" Initiative in East Africa, Kenya has received more financial assistance for the development of the New Silk Road than any other countries in the region.
Over the past three decades AVIC International has been giving priority to the African market. Its headquarters in Africa is built in response to the Belt and Road initiatives and the Strategy of Going Global launched by the Chinese government, with "going beyond commerce for a better world" as the company's mission.
Located in the central business district of Nairobi, and expected to be the first high-end urban complex in East Africa, the project, once completed, will not only reshape the skyline of the city and upgrade its profile as an international hub, but also catalyze investment and consumption and create remarkable commercial value including at least 15,000 job opportunities for Kenya.
General Manager Wang Long and Vice President Karim Cheltout sign five cooperation agreements in the ceremony. [Photo by Liu Hongjie/chinadaily.com.cn]
Marriot International, a leading hotel conglomerate, has been recognized by Fortune magazine as one of the world's Fifty Most Admired Companies. As one of the world's top three leading hoteliers, with its insistence on quiet luxury and attention to detail, it endeavors to create a relaxing and inviting lodging environment.
Based on solid cooperation over the years, AVIC International now invites JW Marriot, the leading luxury brand under Marriot International, into its headquarters in Africa, ushering in a fresh chapter of cooperation while adding a glamorous touch to the new landmark to be inaugurated in East Africa.
As Karim Cheltout, Vice President of Marriott International has put it simply and clearly, "This is not only about the landmark value and prominence of AVIC International's Headquarters in Africa, but more about its brand positioning and market orientation which matches well with the brand of JW Marriott."
Designed by GMP, the world-renowned German architecture firm, and engineered by AVIC International Real Estate Kenya of AVIC International with an investment of USD 400 million (RMB 2.6 billion), AVIC International's headquarters in Africa integrates a super five-star hotel, a high-rise office building and an up-scale business apartment building with a high-street shopping experience.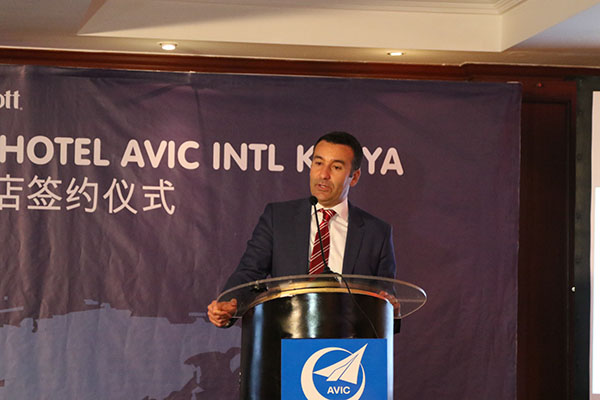 Karim Cheltout, Vice President of Marriott International,speaks in the ceremony. [Photo by Liu Hongjie/chinadaily.com.cn]
With a total construction area of 270,000 square meters, the complex comprises six main towers, one of which will be a record-breaker with 42 floors above the ground at a height of 173.5 meters, the highest office block in East Africa. Quite a number of smart, green, circular and high technologies will be harnessed during construction, while many new techniques are to be put to use for the first time.
"Talking about the project, whether its architectural and artistic style, its geographical eminence, or its market positioning or brand appeal, all fits in well with the brand stature of the Nairobi city itself as the gateway to East Africa," said Shang Yujun, Deputy General Manager of AVIC International Real Estate Kenya.
As a core product of AVIC International's integrated real estate endeavor, the complex is expected to spearhead the entire East African region in the development of commercial complexes by shaping globalized high-value, highly profitable products with selection combinations, thus setting the bar for the industry. Uniquely positioned and pooling high-street brand names from around the world into a world-class commercial conglomerate, the project is poised to become a strategic highland with top brands and businesses.