China to build highway for Liberia as part of Ebola recovery aid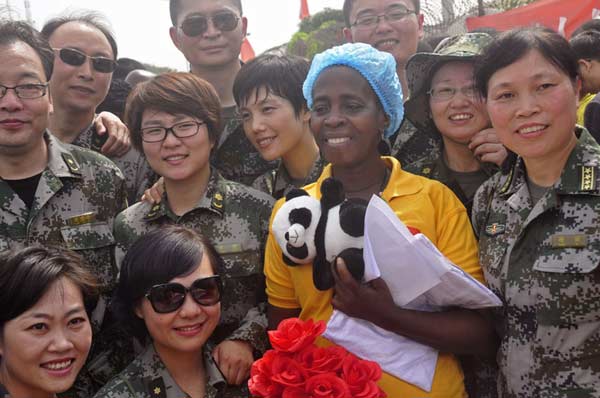 Ebola patient Beatrice Yardolo, center, surrounded by Chinese military health workers, as she leaves the Chinese-run Ebola Treatment Unit where she received treatment in Monrovia, Liberia, March 5, 2015. [Photo/IC]
MONROVIA - China will build a new coastal highway for Liberia as part of its aid to the country recovering from an Ebola epidemic, Liberia's foreign minister said on Sunday.
He was speaking at a news conference with China's Foreign Minister Wang Yi who is visiting Liberia, Guinea and Sierra Leone, the countries hardest hit by the epidemic.
Liberia's existing coastal route is vital for commerce as the country rebuilds after a civil war that ended in 2003. It connects the capital to the border with Cote d'Ivoire via the port city of Buchanan, where exports of exports of iron and timber pass through, but much of the road is unpaved.
"China has agreed to help Liberia with the construction of a ministerial complex which will host about 10 ministries. Also, China will construct a coastal highway," Liberia's Augustine Kpehe Ngafuan said.
China would use its global fund for Africa to finance the project and seek partners, he said. The construction of the ministries had already been announced.
Wang did not directly refer to the highway but said Ngafuan had explained the specific components of China's aid.
"China is open to cooperation in all areas and we know that Liberia is attracting investments from all countries around the world. We know about the historic ties between Liberia and USA but China has its own strength," Wang said.
"Our relations with Liberia have enjoyed fast growth," he said. Liberia was founded by freed American slaves and has retained close ties with the United States.
Ebola has killed more than 4,800 people in Liberia and almost 11,300 people in the three countries since the outbreak began in December 2013 but the number of new cases has fallen to close to zero in recent weeks.
China, Africa's biggest trading partner, has sent hundreds of medical workers to Africa and contributed aid of more than $120 million to the anti-Ebola effort, after initially facing criticism for not doing enough.
Many big companies in China have invested in Africa, tapping the continent's rich vein of resources to fuel the Asian giant's economic growth over the past couple of decades.