Egyptian president inaugurates $9bn 'new' Suez Canal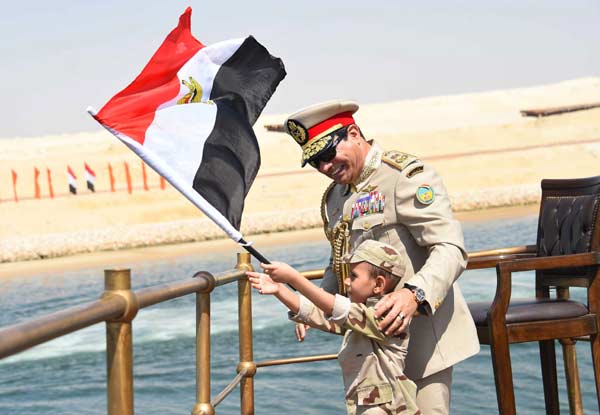 Egyptian President Abdel-Fattah el-Sissi smiles at a boy waving a flag from a historic yacht that sailed to a ceremony unveiling a major extension of the Suez Canal on August 6, 2015. [Photo/Agencies]
President Abdel Fattah el-Sissi was inaugurating a "new" Suez Canal on Thursday in a historic moment of national pride, as Egypt seeks to boost its economy and international standing.
The event, in the port city of Ismailiya, was attended by several heads of state, including French President Francois Hollande.
It comes two years after then army chief el-Sissi overthrew his Islamist predecessor. The president broke ground on the project last August after being elected on promises of strengthening security and reviving a dilapidated economy.
Initial estimates put construction of the new route at up to three years, but el-Sissi set an ambitious target of just one year.
The project is being touted as a landmark achievement, rivaling the digging of the original 192 km canal which opened in 1869 after almost a decade of work.
The new section, built at a cost of $9 billion and funded entirely by Egyptian investors, runs part of the way alongside the existing canal connecting the Red Sea and the Mediterranean.
"It's an achievement for the people who managed to fund it as a national project and accomplished it through perseverance and hard work," el-Sissi's office has said.