Sudan's Bashir re-elected president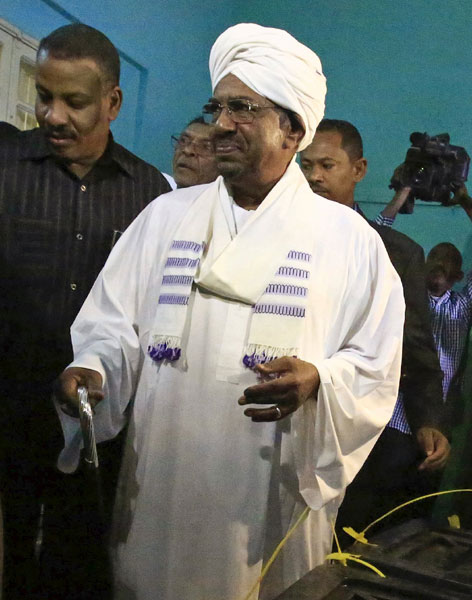 Sudan's President Omar Hassan al-Bashir leaves after casting his ballot during electons in the capital Khartoum April 13, 2015.[Photo/Agencies]
KHARTOUM -- Sudanese President Omar al-Bashir has been re-elected for a new term of office after winning 94.5 percent in the country's presidential vote, Sudan National Elections Commission (NEC) said on Monday.
"Al-Bashir won the presidential polls after obtaining 5,252, 478 votes out of 6,091,412 votes, or 94.5 percent from the valid ballots," said Mukhtar al-Asam, NEC chairman, at a press conference.
He added that Fadl Elsid Shuaib, candidate of the Federal Truth Party, came second with 79,779 votes, or 1.43 percent.
Bashir competed against 15 other candidates, some of them representing small parties with little popular support, while the rest ran as independents.
Unlike the 2010 elections, Bashir faced no real competitor as major opposition parties boycotted the vote.
It was widely expected that Bashir would easily win the vote and his party would achieve a great victory.