Suicide bombers kill at least 26 across north Nigeria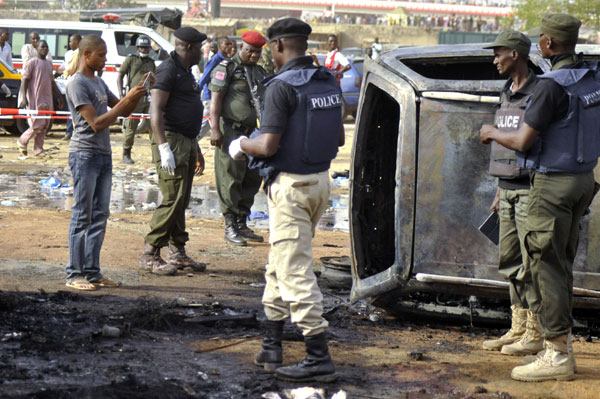 Policemen are pictured at the scene of a suicide bombing at a bus station in Kano February 24, 2015.[Photo/Agencies]
DAMATURU/KANO, Nigeria - Suicide bombers struck two bus stations in different parts of northern Nigeria on Tuesday, killing at least 26 people in attacks President Goodluck Jonathan blamed on Boko Haram, the Islamist militant group he said would soon be defeated.
In the first, a suicide bomber rushed onto a bus in the northeastern town of Potiskum before setting off a blast that destroyed the bus and killed 16 people, according to security and hospital sources.
A police spokesman said the bomber was a man, but that some witnesses had mistakenly blamed a teenage girl who was in fact one of the victims. On Sunday, a girl with explosives strapped to her killed five people outside a market in the same town.
In Tuesday's second attack, two suicide bombers in a car struck a major bus station in the north's main city of Kano, killing at least 10 people, police spokesman Ibrahim Idris said.
President Jonathan blamed Boko Haram, whose struggle for an Islamic state in religiously mixed Nigeria has killed thousands of people and displaced over a million.
The use of suicide bombers has become a common tactic of Boko Haram since last year as the group expanded territory and became stronger and more deadly. But in the past three weeks it has begun to suffer a string of defeats in a military offensive by Nigeria and neighbours Cameroon, Niger and Chad, all of which have been destabilised by the Islamists.