Egypt court sentences Brotherhood's top leader to life in prison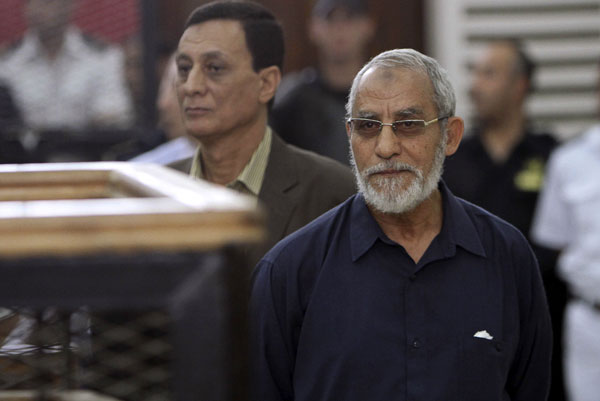 Muslim Brotherhood's Supreme Guide Mohamed Badie (R) looks on during his trial at a court in Cairo, in this May 18, 2014 file picture.[Photo/Agencies]
CAIRO - An Egyptian court on Saturday sentenced Muslim Brotherhood Supreme Guide Mohamed Badie and other senior Brotherhood leaders to life in prison, over charges of inciting deadly clashes in Giza province in July 2013, the official state TV reported.
The Giza court commuted the death sentence handed to Badie, along with seven other senior Brotherhood leaders including Freedom and Justice Party secretary general Mohammed al-Beltagi and deputy party chairman Essam al-Erian, to life sentence, while it upheld the death verdicts for six others in absentia, notably including hardline Gamaa Islamiya leader Assem Abdel Maged.
All were accused of inciting violence that led to the killing of 10 people and injuring of 20 more during violent clashes outside the Istiqama Mosque in Giza.
On June 16, the court referred the verdicts against Badie and 13 other Brotherhood members and supporters to the Grand Mufti Shawqi Allam, Egypt's highest Islamic legal official, who rejected the judgements for lack of evidence, and asked the court to reconsider them.
Badie was formerly sentenced to death by an Upper Egyptian court in June over similar charges. He was also sentenced to life in prison in a separated case that involved cutting a road in Qalubiya city, north of the capital Cairo, in July 2013.
Since the powerful military ousted the country's first democratically-elected president and former Brotherhood leader Mohamed Morsi, authorities have been waging a massive crackdown on the group which it designated a terrorist group, leaving nearly 1, 000 killed while thousands others have been arrested.
The Brotherhood was also accused of targeting the army and police with attacks that killed hundreds of security personnel, a charge its leaders repeatedly deny.
Morsi himself is on trial on charges including espionage, jailbreak, ordering the killing of protesters and insulting the judiciary.