Egyptians vote in presidential polls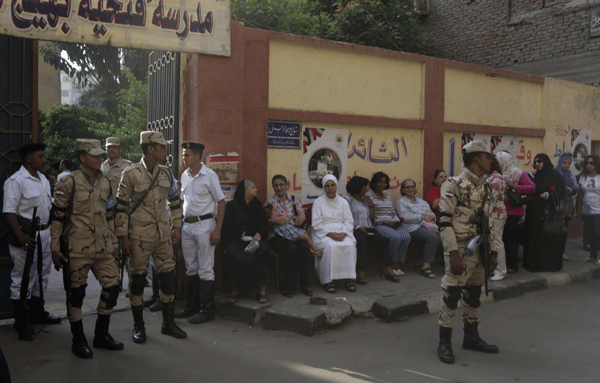 Egyptians wait to vote in an election expected to make former army chief Abdel Fattah al-Sisi president in Cairo May 26, 2014. [Photo/Agencies]
CAIRO -- Egyptian voters cast their ballots on Monday and Tuesday across the country in the first presidential elections following the ouster of former Islamist President Mohamed Morsi.
Ex-military chief Abdel-Fattah al-Sisi, who led Morsi's overthrow, is poised to score an easy win. His only rival in the race is leftist leader Hamdeen Sabahy, who finished third in the 2012 presidential election.
Polling stations opened at 9 a.m. local time (0600 GMT) to more than 53 million eligible voters in nearly 11,000 polling centers across 27 provinces in Egypt, with the participation of more than 15,000 judges to supervise the electoral process.
Sisi enjoys overwhelming popularity since he removed Morsi last July after mass protests against his one-year rule.
The former military chief won 94.5 percent of the votes cast by over 300,000 overseas Egyptians in 124 countries last week.
"I voted for stability, security, which are crucial for economic recovery," said 47-year-old Mohamed Attiya, manager of a tourist company, who said he gave his vote to Sisi at the polling station inside Future Language School in western Cairo.
Gamila Munir, a 33-year-old engineer, said he voted for Sabahy.
"We need a civil country," Munir said. "We no longer need military ruling... the Egyptians demand freedom and Sisi will be the reproduction of the autocratic rule of long-time ruling former president Hosni Mubarak."
Egyptians hope the new president would help restore security and stability in the turmoil-stricken country that saw the ouster of two presidents in three years.
If he wins the presidency, Sisi would be Egypt's eighth head of state since the overthrow of the monarchy in 1953.
The balloting is being supervised by monitors from the European Union, the African Union, the Arab League.
"The world is watching how Egyptians are writing history and their future," Sisi said while casting his ballot at a polling station in Heliopolis, Cairo,
The voting is scheduled to end on Tuesday, but Interim Prime Minister Ibrahim Mahlab told Xinhua at a polling station in Maadi, Cairo, that it could be extended if a perceived huge turnout continues.
Official results are expected on June 5.
More than 432,000 army and police personnel are deployed across Egypt to insure security amid reports of bombing and protests.
In the Upper Egypt province of Minya, Morsi supporters protested in the village of Delga against the army-backed government, brandishing banners that read "Boycott This Absurdity. "
State-run newspaper Ahram reported on its website that a bomb exploded outside a balloting center in Faiyum province, 85 km south of Cairo, but caused no casualties.
Early Monday morning, unidentified militants reportedly set a state TV vehicle on fire in Minya.
In Giza, security forces reportedly defused an explosive device at a balloting station.
The Muslim Brotherhood movement, from which Morsi hailed, is boycotting the vote, along with several youth groups. The authorities declared the Brotherhood a terrorist organization last December.