Profile: S African President Jacob Zuma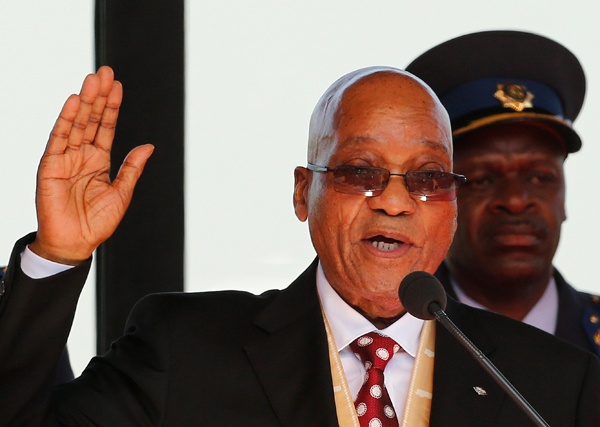 South African President Jacob Zuma takes his oath of office during his inauguration ceremony at the Union Buildings in Pretoria May 24, 2014. [Photo/Agencies]
JOHANNESBURG - South African President Jacob Zuma was inaugurated for a second term on Saturday following the ruling African National Congress' (ANC's) victory in the May 7 general elections.
The following is Zuma's profile issued by the Presidency:
Zuma was born on April 12, 1942 at KwaNxamalala in Nkandla, northern KwaZulu-Natal.
Joined the ANC Youth League in 1959, he became an active member of the ANC. He was recruited into Umkhonto Wesizwe, the ANC's armed wing.
He was arrested in 1963 and sentenced to 10 years imprisonment.
After being released in 1973, he immediately began the task of rebuilding the ANC underground structures.
Zuma had to leave the country in 1975 on the instruction of the leadership. During his period in exile, Zuma engaged in underground work with former President Thabo Mbeki.
In 1984, Zuma was appointed the Deputy Chief Representative of the ANC.
Zuma secretly returned to the country in 1990 to work as part of a steering committee tasked with identifying remaining obstacles to negotiations between the apartheid government and the ANC.
In 1991, at the first ANC conference held in South Africa since 1959, he was elected Deputy Secretary General.
In 1998, Zuma received the Nelson Mandela Award.
In 1999 Zuma was appointed as the Deputy President of the Republic.
Zuma was inaugurated as South African president for his first term on May 9, 2009.