Egypt military head wants to build 1m homes
By Associated Press in Cairo and Dubai, United Arab Emirates | China Daily | Updated: 2014-03-11 07:32




Egypt's powerful military chief launched a housing initiative on Sunday that will build 1 million homes in cooperation with a major Emirati construction firm.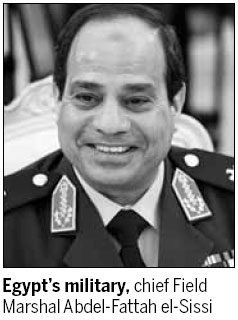 The action is the first campaign-style move by Field Marshal Abdel-Fattah el-Sissi, who is widely expected to run for president.
Sissi hasn't made an official announcement yet, but has strongly indicated he will run. The elections, expected in April, will be the first since the military ousted elected Islamist president Mohammed Morsi in July after mass protests against him.
The housing initiative was announced on Sunday on the official Facebook page of Egypt's military spokesman. It said the million homes are dedicated to "Egypt's youth" and a first step to solving the country's housing problem.
In a signing ceremony later aired on Egyptian television, the head of the military's Corps of Engineers, Major General Taher Abdullah Taha, said the initiative is one of the most important projects to solve the housing problems in Egypt and underlines the close cooperation and friendship between Egypt and the United Arab Emirates.
"It is a major project that strengthens brotherly relations and friendship" between the two countries, Taha told a gathering of military generals; the chairman of Arabtec, the Emirati firm; and housing experts. "This new cooperation is an addition to a flood of giving from the brotherly UAE aimed at helping alleviate the suffering of the Egyptian people".
Senior generals close to Sissi and government officials have told The Associated Press he has secured a large aid package from wealthy Gulf Arab nations and allies - Saudi Arabia, the UAE and Kuwait - that will help keep the nation's troubled economy afloat. The package also will maintain his popularity while he pushes on with painful economic reforms, such as lifting or restructuring the massive fuel and bread subsidies that account for nearly half of all government spending.
So far, those wealthy Gulf countries have poured $12 billion into Egypt in emergency packages since Morsi's ouster.
Meanwhile, the UAE has thrown its support behind neighboring Saudi Arabia's decision to label the Muslim Brotherhood a terrorist organization, increasing Gulf Arab pressure on the Islamist group.
Saudi Arabia listed the 86-year-old Brotherhood along with several other groups, including al-Qaida affiliates, as terrorist organizations on Friday. Those who join or support the groups could face five to 30 years in prison under the new Saudi policy.
The Gulf moves against the Brotherhood follow an Egyptian decision to label it a terrorist organization in December. The move by the military-backed interim government in Cairo comes amid a crackdown on the group in the wake of Morsi's ouster.
Cairo based its accusation mainly on a series of deadly bomb attacks that it says the Brotherhood orchestrated. The Brotherhood denies the accusations.