Violence threats Chinese safety in Africa
One Chinese worker died and six were injured after gunmen attacked a Chinese company in the Zambian capital on Feb 12, 2014, in a case that has renewed fears for workers' safety in Africa.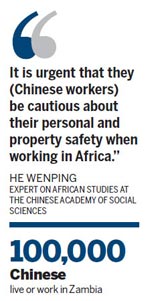 According to the Chinese embassy in Zambia, four gangsters with guns raided the private enterprise in suburban Lusaka on Wednesday morning. Seven Chinese workers were wounded in the ensuing fight and one died later that night. Two gunmen were killed and the rest fled. The company was from Central China's Henan province.>>More
Since the attacks on overseas Chinese workers or employees in Africa were reported many times, China Daily website has made a rough summary of such attacks in Africa over past years.
Feb 7, 2014
29 kidnapped Chinese working at Sinohydro Corp Ltd are rescued and arrive in Nairobi, Kenya, under escort by Chinese personnel.
Jan 12, 2013
4 Chinese workers from a transportation project team are ambushed by unidentified armed men in Sudan's Darfur region, later rescued.
October 2012
Over 100 Chinese suspected of illegal gold mining are detained in a sweep investigation carried out by a Ghanaian watchdog, among them a young man surnamed Chen, who was beaten to death.
Aug 4, 2012
A Chinese manager dies, 4 other workers are injured and property seized during labor unrest in a China-invested coal mining company in south Zambia.
March 8, 2012
6 Chinese workers die in an ammunition explosion in Brazzaville, capital of the Republic of Congo.
Jan 31, 2012
25 Chinese workers at a research institution from Tianjin are kidnapped by Egyptian armed men in the Sinai Peninsula, later rescued.
Oct 15, 2010
Chinese personnel open fire, causing 11 local worker deaths, and 3 Chinese are injured at a coal mine run by China in south Zambia.
Oct 18, 2008
5 die and 4 are rescued in an attack at China National Petroleum Corp by armed men in South Sudan.
July 6, 2007
A staff member at a Chinese company is kidnapped in north Niger by unidentified armed men, later rescued.
June 2, 2007
A branch company from East China's Shandong province is attacked in Togo's capital Lome, with a property loss of nearly 150,000 RMB.
April 24, 2007
A project team at a China-owned oil company is attacked and kidnapped, leaving 9 dead, and 7 are rescued in south Ethiopia.
Jan 25, 2007
9 Chinese workers at a China-owned oil company are kidnapped in Nigeria, later rescued.
Jan 5, 2007
5 Chinese workers are kidnapped by militants in Niger River Delta in south Nigeria, later rescued.