UN launches surveillance plane for DR Congo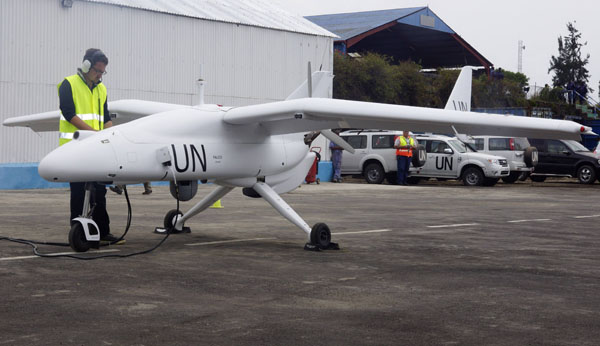 A technician checks a surveillance Unmanned Aerial Vehicles (UAV) drone operated by the United Nations in the Democratic Republic of Congo's eastern city of Goma December 3, 2013. United Nations forces in Democratic Republic of Congo launched unmanned aircraft on Tuesday to monitor the volatile border with Rwanda and Uganda, the first time UN peacekeepers have deployed surveillance drones. [Photo/Agencies]
UNITED NATIONS - The United Nations on Tuesday launched its first-ever unmanned aerial vehicles (UAVs) in the Democratic Republic of Congo (DRC) in a bid to better protect civilians in the country's restive east, a UN spokesman said.
"This morning in Goma, in the eastern Democratic Republic of the Congo, the UN Mission, MONUSCO, conducted the inaugural launch of its unarmed unmanned aerial vehicles," Martin Nesirky said at a daily news briefing here. Goma is the capital of the country's North Kivu Province.
The UN under-secretary-general for peacekeeping operations, Herve Ladsous, traveled to Goma for the launch of the UAVs, popularly known as "drones," together with the secretary-general's special representative in the country, Martin Kobler, Nesirky said.
Speaking after MONUSCO launched an Italian-made surveillance drone from the airport in Goma, Ladsous said that "this is a first in the history of the United Nations that such an advanced technological tool has been used in peacekeeping mission."
Ladsous said the United Nations had entered the 21st Century from a technological point of view and that peacekeeping operations needed these tools so that the United Nations could do an even better job of fulfilling its mandates, especially protecting civilians.
The UN Stabilization Mission in the country, known as MONUSCO, is mandated to, among its primary tasks, protecting civilians in the area.
In an offensive, the Congolese defense forces FARDC, supported by the MONUSCO intervention brigade, forced the powerful M23 rebels, which have harrowed parts of the North Kivu Province for more than 18 months, to surrender last month.
MONUSCO has often pointed out the challenge of protecting civilians in face of its vast area of operation and lack of so- called "force multipliers" such as military helicopters.
The UAVs will allow much better coverage, MONUSCO said.
"With this kind of equipment, we should be able to combine information gathered in flight with information gathered on the ground by people," MONUSCO Force Commander General Santos Cruz said, describing images that could be obtained at three kilometers in altitude.  
Ladsous said that the deployment of the aircraft, authorized by the UN Security Council last spring, was still evolving, but was starting with two UAVs.
The goal was to have the craft up around the clock and adequately cover all the terrain in the relevant DRC provinces, he said.