Drug trafficking gang arrested in Thailand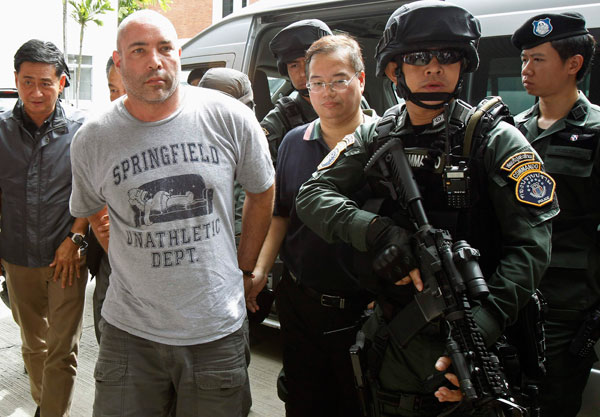 Thai policemen escort an American drug suspect Joseph Hunter, 48, as he arrives at Don Mueang International Airport in Bangkok Sept 27, 2013. Thai police transferred six foreigners suspected of drug smuggling to Bangkok on Thursday after their arrests in the seaside resort, Phuket. Hunter, along with two British, a Taiwanese, a Slovak, and a Filipino were arrested on Phuket island on Wednesday following a tip-off from the United States Drug Enforcement Administration (DEA). [Photo/Agencies]
BANGKOK - Thai and US police arrested a former American Navy seaman and five accomplices in connection with drug trafficking and other offences, Thai News Agency reported on Friday.
Deputy National Police chief Somyot Poompanmoung said members of the group, belonging to an international Mafia network, were nabbed in southern resort island of Phuket and flown to Bangkok for questioning.
The suspects included Joseph Manuel Hunter, a former US Navy Special Forces officer, two British nationals, a Slovakian, a Filipino and a Taiwanese.
Pol Gen Somyot said Thai police were earlier tipped off by their US counterparts on the gang members who had been in hiding in Thailand. They entered Phuket on September 6.
Narcotics Suppression Police commander Chaiwat Chotima said the suspects had been involved in smuggling and exporting various kinds of drugs including crystal methamphetamine, cocaine and heroin with a global connection.
The group has also been involved in other illegal activities including sex trade in many countries, he said.
All suspects will be deported to the US for trial, the police added.