Disabled people seek sex lives
GRENOBLE, France - In her sexual fantasies, she is a fit and impetuous blonde who dominates her male partners. In real life, she is a virgin who relies on an electric wheelchair, her body touched only by home care aides and medical personnel.
"A disabled person is seen as a child," said the woman, Laetitia Rebord, 31. "So inevitably, child and sex don't go together."
A genetic spinal muscular atrophy has paralyzed all but her left thumb and her facial muscles.
Ms. Rebord, who says she feels physical sensation acutely, has looked for sexual relationships through friends of friends, dating sites and even with male escorts. But she says she is now ready to pay for sex in Switzerland or Germany, where so-called sexual surrogates are legal.
The topic of sexual surrogates gained attention in France in March, after the National Ethics Committee, which advises the government on health issues, criticized the practice as the "unethical use of the human body for commercial purposes."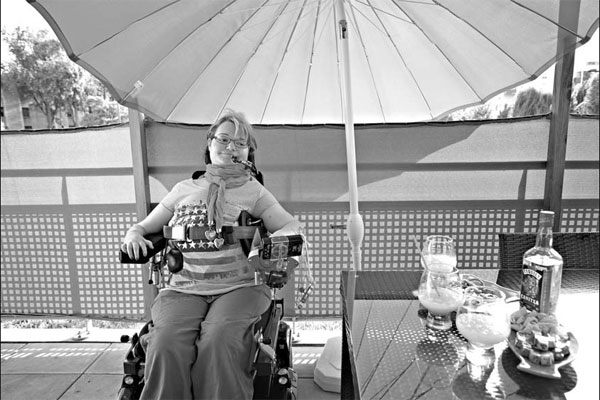 Laetitia Rebord, who posed for a calendar, below, says disabled people are treated like children. Photographs by France Keyser for The New York Times
While prostitution is legal here, soliciting clients and serving as an intermediary between prostitutes and clients are not.
But some are demanding the legalization of sexual surrogates.
"Prostitution is a fake debate; the goals are different," said Pascale Ribes, who in 2011 founded the Disabilities and Sexualities Group, an association defending sexual surrogates in France.
"Sexual assistance is about allowing a disabled person who can't access sexuality in a satisfying way to reconnect with the body," Ms. Ribes said.
Her association is lobbying for a change in the law to let disabled people, their parents, their friends or directors of approved institutions to arrange meetings with sexual surrogates, who typically charge around $130 a session.
In France, the rarity of debate over the subject, the laws regulating prostitution and the refusal to legalize sexual surrogates have encouraged illegal practices.
Aminata Gregory, 66, has been performing sexual assistance illegally in France for more than a year. She was trained as a sex therapist in Switzerland, and her work mostly involves massages and erotic games without kisses on the mouth or sex.
"If someone is in a wheelchair, I start in the wheelchair," Ms. Gregory said. "I start playing the game of getting undressed on the wheelchair. It becomes a little like a game."
Ms. Gregory, who is Dutch, has about 10 disabled clients in France and charges them through her company in the Netherlands.
Ms. Gregory recently went to southern France to meet one of her clients, Daniel Doriguzzi, 49. Mr. Doriguzzi has a rare genetic disease called Friedreich's ataxia that is making him gradually lose physical coordination and the ability to speak fluently.
With a prostitute, Mr. Doriguzzi said, "it lasts for a limited time and nothing else." With Ms. Gregory, "we put ourselves in a bubble and become a normal couple. We talk to each other. We do whatever we want. We ask each other whatever we want. At the end of the session, we break the bubble."
Sexual surrogates are legal in most countries that allow prostitution, like Switzerland, Germany and Denmark.
In 2008, Catherine Agthe Diserens, a Swiss-German educator, started a six-month sexual surrogate training program with former prostitutes, nurses and physiotherapists. It included classes about disabilities, internships in institutions, collaborations with sex workers and practical courses exploring what Mrs. Agthe Diserens called "body skills."
For many French feminists, who associate undesired sex with violence, sexual assistance is humiliating both for the assistant involved and for the disabled person. "It's like telling disabled people that since they will never have a sex or love life, we'll prescribe them sexual assistance as a palliative," said Anne-Cecile Mailfert, a member of Osez le Feminisme (Dare to be feminist).
She also worries about creating emotional dependency on sexual surrogates.
But the central question, she said, is less about sexuality than about teaching medical professionals to understand the sexual needs of disabled people and to help them meet other people.
Marcel Nuss, a disabled father of two who breathes with an artificial respirator, is the author of "I Want to Make Love." The book describes his personal fulfillment through love with his former wife and a sex life with escorts.
"Someone like me can't do anything on his own," Mr. Nuss said. "Sex helps the disabled to reincarnate themselves and recover their human aspect."
Ms. Rebord shares Mr. Nuss's optimism and openness.
In time, she said, France will legalize sexual surrogates. "I hope," she said with a laugh, "I'll still be alive to see it."
Stefania Rousselle contributed reporting from Vedene, France.
The New York Times