S Africa will stand with Mandela legacy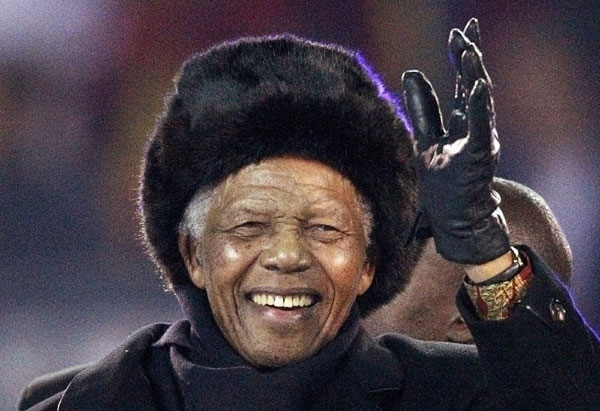 Former South African President Nelson Mandela waves to the crowd at Soccer City stadium during the closing ceremony for the 2010 World Cup in Johannesburg, in this July 11, 2010 file photo. [Photo/Agencies]
JOHANNESBURG - Anti-apartheid hero Nelson Mandela can be ill but his legacy will last forever. This is a strong view of many South Africans.
Mandela, 94, was rushed to a Pretoria early Saturday morning for a recurring lung infection.
He has been in and out of hospital several times this year. In early March he was admitted to hospital for a routine medical checkup and was discharged the next day. Later in the same month, he was hospitalized again and spent nine days in hospital receiving treatment for recurring lung problems.
This time, Mandela is in a "serious but stable condition", presidential spokesman Mac Maharaj said.
Maharaj said that during the past few days, Mandela has had a recurring lung problem and was transferred to hospital at 1:30 am Saturday morning after his condition deteriorated.
His condition remained unchanged on Saturday afternoon, according to Maharaj.
"We keep Tata Madiba (Mandela) in our thoughts and prayers during this time and send our support to his family," Proudly South Africa (Proudly SA) Chief Executive officer Leslie Sedibe said. "We trust that all South Africans will unite at this time as we show support for Madiba and his family," he added.
Numerous South Africans joined President Jacob Zuma in wishing Mandela well. Words of encouragement to him and to his family are pouring from government officials, business community and ordinary individuals as well.
"What he needs now is our prayers. We need to gather in prayers and unite as a nation to support the medical team with prayers," 43-year-old Matola Sangweni said while passing the Mandela Bridge in Johannesburg.
"Nelson Mandela is a father to South Africa and South Africans, every time he is admitted to hospital we feel saddened along with the rest of the country," opposition party Democratic Alliance (DA) spokesperson Mmusi Maimane said in a statement.
"We wish Tata (father) a swift recovery and wish the medical team that is with him all the strength in dealing with his condition," he added.
"Mandela is an old man and we must not panic over his condition. Let's look at his legacy and follow his beliefs and desire for this nation," 58-year-old Maxwell Khumalo told Xinhua at Mandela Square in Sandton North of Johannesburg.
"Let's do what he told us... love and unity is what we must peruse to please Tata," he added.
News about Mandela's hospitalization is toping headlines here. International media was seen miring at his Johannesburg house where official vehicles were seen driving in and out.
At his former home in Soweto, Johannesburg, hundreds of people gathered to pray for him.
"All we want is Tata to appear on TV smiling to the nation," said a Soweto resident working at the museum.
"We hope and trust that Mandela and his family will be afforded the necessary respect and privacy while he is in hospital," ruling party Africa National Congress (ANC) National Spokesperson Jackson Mthembu said.
Mandela's lung infection was the result of tuberculoisis developed when he was in prison under the apartheid rule. The anti- apartheid hero was elected the first black president in 1994 after the end of apartheid.