271 dead in Bangladesh building collapse
DHAKA - The death toll from Wednesday's building collapse in Savar on the outskirts of Bangladesh's capital Dhaka climbed to 271 on Friday morning, police said.
Relatives of the missing said scores of people were still unaccounted for when rescuers also believe that many more are still alive in the wreckage.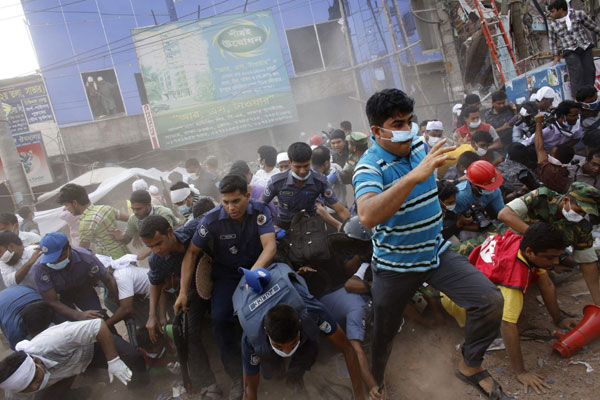 Rescue workers, army personnel, police and members of media run after they heard someone shouting that a building next to Rana Plaza is collapsing during a rescue operation in Savar, 30 km outside Dhaka April 26, 2013. The search for survivors from Bangladesh's worst industrial accident stretched into a third day on Friday, with the death toll rising to 271 after the collapse of Rana Plaza, a building housing factories that made low-cost garments for Western brands. The building next to Rana Plaza did not collapse. [Photo/Agencies]
In one of the worst building collapses ever in Bangladesh, officials said rescuers have so far pulled alive more than 2,000 people including 41 on early Friday.
"The death toll from the building collapse has climbed to 271," Wali Ashraf, a police official at a control room set up to provide information about the disaster fatalities, told Xinhua Friday morning.
He said 41 trapped people were rescued alive from beneath the rubble of the eight-storey building early Friday, keeping alive the hope that more lives can be saved as the rescue operation continues.
Of the bodies, he said 223 have so far been handed over to their relatives.
Rescuers with support of hundreds of volunteers and locals also worked frantically through the second consecutive night to rescue people who are still believed to be trapped inside.
They say the salvage operations at the site will continue until Saturday before the process to remove the wreckage begins.
The eight-storey building Rana Plaza in Savar on the outskirts of capital Dhaka crumbled like a pack of cards on Wednesday at about 8:30 am local time.
Following the cracks which were detected just one day before the accident, the workers were evacuated and the garments authorities declared a leave for Tuesday.
But nobody was much bothered about the cracks when officials of the factories forced the workers on the next morning to join workplaces in the building.
Six floors of the building, owned by a leader of Prime Minister Sheikh Hasina's ruling Bangladesh Awami League party who reportedly constructed the building without permission from relevant authorities, assured owners of the factories there was no problem despite cracks detected.
Apart from a bank's branch and hundreds of shops, the building housed five garment factories which, according to garment manufacturers' association, employed nearly 3,500 workers, mostly women.
Most of the death victims are also females.
According to the rescuers, many pillars and ceilings have collapsed in such a way that any wrong move could cause a fresh tragedy.
"We can't give time line when the rescue operation will be completed," Bangladesh Army Brigadier General Mohammed Siddiqul Alam Shikder, leader of the rescue operations, told Xinhua Thursday evening.
"We're trying our best to rescue first the survivors. If we go for a large scale clean-up that could be detrimental to those who are still under the piles of rubble," he said.
It is not known exactly how many workers were inside when the building collapsed. But sources said several thousand workers used to work in the five factories -- Phantom Apparels, Phantom Tac, Ether Tex, New Wave Style and New Wave Bottoms -- which make clothing for many major global brands.
Bangladesh Garment Manufacturers and Exporters Association Thursday suspended membership of the five factories, owners of which already got away.
Bangladeshi Prime Minister Sheikh Hasina Thursday told Parliament that she has ordered to take stern action against those responsible for all these deaths.