Egypt holds 2nd phase parliamentary vote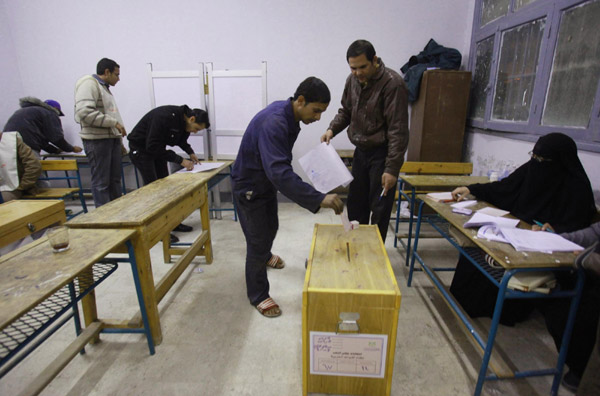 A man casts his vote in a school used as a polling center during the second day of parliamentary elections in Suez December 14, 2011. [Photo/Agencies]
CAIRO - Egyptians cast their ballots on Wednesday in the second stage of the People's Assembly (lower house of parliament) elections, after the first stage concluded with Islamic parties gaining the polls.
The polling stations opened at 8:00 am (0600GMT) in Giza, Minufiya, Sharqiya, Ismailia, Beni Suef, Suez, Beheira, Sohag and Aswan governorates. Soldiers and police were deployed to ensure the security.
Just like the high turnout in the first round, a large number of voters flocked to the polling booths shortly after the vote began, showing great enthusiasm in choosing the country's future.
Around 18.7 million eligible voters are expected to cast their ballots in the two-day vote, in which more than 3,000 party candidates and independents are competing for 180 seats.
In the Rashdi station in Giza, a queue of voters of more than 100 meters long stood outside waiting for casting their votes. About 10 soldiers and police were in charge of maintaining the order.
"I think this election is good. With this vote, the Egyptian people understand better about freedom and democracy," said Mawar, a woman with a face veil.
"Yes indeed, there were some mistakes during the first stage, but that is acceptable after all, because this is our first real election," said the female voter waiting outside. She said she would vote for the Nour party because she is a Muslim and that party is more religious.
"I think people should not fear the Salafists. They are Muslims and part of us. They are more strict about religious affairs, but if you get used to them, there is nothing to fear," she explained.
In the first round of vote held on November 28-29, the moderate Muslim Brotherhood's Freedom and Justice Party won 36.6 percent of the votes, followed by the fundamentalist Nour Party who garnered 24.4 percent, in nine provinces including Cairo and Alexandria.
The unexpected rise of Salafists raises fears that they will impose strict Islamic doctrines after they reach power. Spokesman for the Nour Party Nader Bakar said Monday the party would only allow tourists to drink alcohol they bring with them from abroad and only in their hotel rooms, the website of the state-run Ahram newspaper reported.
The remarks of the Islamists sparked concerns about potential harm to the country's tourism, a pillar industry which employs some three million workers and creates around 11 percent of the country's gross domestic product.
Magdy Radwan, a middle-aged voter in Giza, told Xinhua that "I will not vote for Muslim Brotherhood or Salafists, because I don't like to see there is a majority in the People's Assembly."
"Yes now they are good to us, but no one can guarantee they will continue to respect our will and interests after they are elected," he said. "I am afraid they would forget us just like what (former president) Mubarak's National Democratic Party did. So I will not support them and I don't expect they can continue to win the second stage. "
Wednesday's voting saw a high turnout and a generally smooth process in the polling stations.
"I didn't cast my vote before, but today I have more political awareness, so I come to cast my vote," said Nada Abdel Baset, a 22- year-old voter, in Aswan.
"This is the first real elections in Egypt's history in 30 years," 34-year-old voter Mohamed Antar in Aswan told Xinhua.
Mahmoud Khalaf, 34, in Aswan, said he would not vote for the Nour Party or the Freedom and Justice Party, but for Wasat Party. The Wasat Party, also with Islamic background, was the first party to have been officially approved after the fall of ex-president Hosni Mubarak in February.
Minor violations, such as scuffles between supporters of different candidates, were reported in some areas. In Beni Suef, a man was caught trying to bribe the people to vote for a candidate belonging to the former regime, according to a Xinhua reporter.
The first stage saw a high turnout of 60 percent. Islamic parties are predicted to continue their victory in the second and third stages, according to analysts.
The 508-seat People's Assembly has 498 seats up for grabs. The remaining 10 will be appointed by the president. Some 50 parties and more than 6,000 independent candidates are contesting the polls. The vote is held over three stages, each with a run-off one week after the first round. Each stage covers nine governorates. The whole process will end on January 10, 2012, and the final results will be announced by January 13.
The new parliament is in charge of selecting a 100-member assembly to draft the constitution.
The Shura Council (upper house of parliament) will start voting in late January and end in early March. It will be followed by a presidential vote before June 30.
Egypt's ex-president Hosni Mubarak resigned on February 11 under pressure of mass anti-government protests. The Supreme Council of the Armed Forces took over power and then dissolved the parliament and suspended the constitution.