Libya's NTC announces new interim govt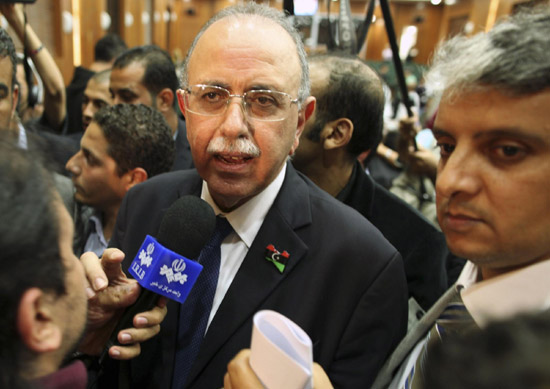 Libya's Prime Minister designate Abdurrahim El-Keib (C) talks to the media in Tripoli November 22, 2011. [Photo/Agencies]
TRIPOLI - The prime minister of Libya's interim government announced the lineup of the country's transitional cabinet in the capital Tripoli late Tuesday that will lead the war-torn country until parliamentary elections are held in 2012.
Prime Minister Abdel Rahim el-Keeb said at a press conference in Tripoli late Tuesday that Hashour Forgen Hasana will be finance minister, Fawzy Abdel Aal is named as interior minister, Osama Jewle is nominated as defense minister, and Anwar El Fetori will be communication minister.
The interim government consists of two deputy prime ministers and 24 ministers, including two female members.
Keeb said the interim government aims to ensure security and stability by providing basic social services and payment of salaries, to support efforts of the National Transitional Council (NTC) to achieve national reconciliation, to establish justice and to rebuild the army and security forces, among other goals.
The formation of a new government in Libya has been postponed repeatedly due to differences among factions within the NTC, formed by anti-Gaddafi forces not long after the revolt erupted in Benghazi.
Abdel Rahim el-Keeb, a professor of Tripoli University, was elected late October as Libya's new interim prime minister.
El-Keeb, also a member of the NTC, won 26 out of 51 votes, which was conducted in the presence of domestic and foreign journalists in the capital.