Clinton, NTC leaders discuss assistance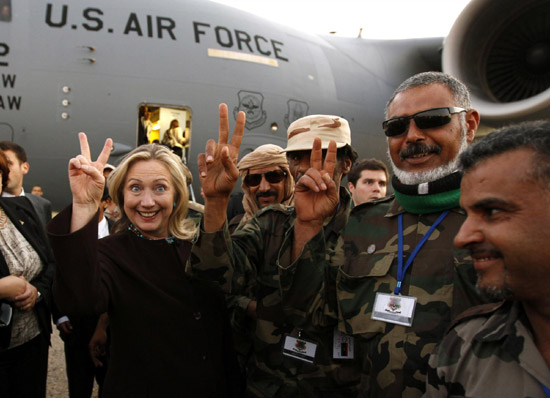 US Secretary of State Hillary Clinton (C) gestures with Libyan soldiers upon her departure from Tripoli in Libya, October 18, 2011. [Photo/Agencies]
TRIPOLI - Senior leaders of Libya's ruling National Transitional Council (NTC) on Tuesday held talks with visiting US Secretary of State Hillary Clinton who pledged efforts to help rebuild the war-torn country.
At a joint press conference in the capital Tripoli after their meeting, head of NTC's executive board Mahmoud Jibril said the two sides have agreed to form a high-level joint committee on bilateral relations on the new track.
Clinton, who arrived here Tuesday on an unannounced visit, said the committee is welcomed by the United States as it will "look at the priorities of the Libyans themselves have."
"This is Libya's moment. This is Libya's victory. And the future belongs to you," said Clinton.
Confirming that the two sides are working together to return billions of dollars of frozen assets, Clinton said the first thing to focus on in Libya at the current stage is still security.
"I am pleased to announce that we are going to put even more money into helping Libya secure and destroy dangerous stockpiles of weapons," she said, noting that a total of 40 million US dollars will be supporting this effort. She added that they will also work to destroy chemical weapons believed to be possessed by the fallen leadership of Muammar Gaddafi.
Also, Clinton pointed out the importance of unifying the militias under national command. She said members of all militia must "see the benefit of joining the new government."
Meanwhile, Washington will extend economic cooperation with Tripoli, enhance educational and cultural exchanges as well as civil society engagement, said the US secretary of state, who also vowed to send some of the seriously injured in the war to specialized medical facilities in the United States.
But the two sides seem yet to reach consensus on the Lockerbie case, in which a Libyan convict was involved.
As the NTC has said last month that Abdel Basset al-Megrahi, the main convict of the bombing in 1988 which killed 270 civilians (mostly Americans) aboard a plane over Scotland, was not to be put on trial again as the case is already closed, Clinton stressed that the United States believes that al-Megrahi should have never been released.
Al-Megrahi was imprisoned in Scotland before he was released on compassionate grounds in 2009 due to serious illness.
According to Clinton, the United States will continue pursue the justice for the victims, and it is "still an open case."
Clinton's visit, after the one made by British Foreign Minister William Hague on Monday, came as the Libyan NTC fighters are striving to conclude the siege of remnant pro-Gaddafi forces in their last hideouts in Bani Walid and Sirte.