Libyan NTC slows down in Sirte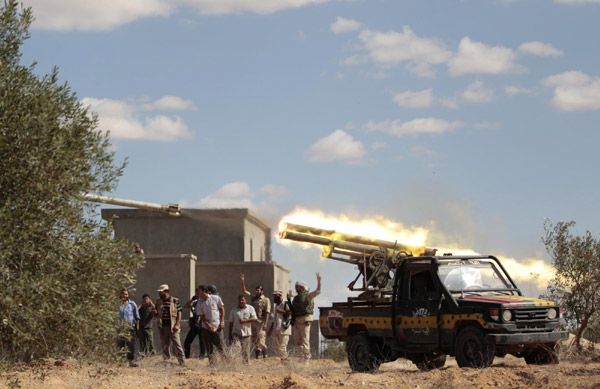 Anti-Gaddafi fighters fire a Grad missile during clashes with pro-Gaddafi forces at the front line in Sirte October 15, 2011. [Photo/Agencies]
TRIPOLI - Fighters of the Libyan ruling National Transitional Council (NTC) on Saturday slowed down their attacks in the northern coastal town of Sirte, while their counterparts in Bani Walid managed to take control of new areas in the northwestern oasis city.
According to a source close to Libya's new rulers, the NTC fighters moderated offensives on Sirte on Saturday, hometown of fallen leader Muammar Gaddafi, in order to secure the exits of civilians who were still trapped inside the city, where an estimated 400 pro-Gaddafi soldiers and mercenaries are making a gamble fight.
The source, asked to remain anonymous, told Xinhua that the remnant Gaddafi forces in Sirte had few heavy weapons now besides snipers and some RPGs.
On Saturday, the NTC arrested dozens of foreigners who it believed were hiding illegally in Sirte -- possibly mercenaries. But most of the detainees dismissed links with the battles, local channel Liberal reported.
Meanwhile, a medical source in Sirte said that three NTC fighters were killed and more than 16 in fierce battles in a neighborhood in Sirte on Saturday.
On another front line of Bani Walid, a NTC source said that the authorities had now controlled the eastern front of the city and had besieged Gaddafi's loyalists, who had run short of ammunition and supplies, in the "Olive Tree" region.
The NTC is able to free the majority of the city, Mahmoud Boras, a member of the Media Committee of the local council of Bani Walid, was quoted as saying by local media.
The fighters have fully "liberated" a hospital in Bani Walid and an industrial district, while they have also made progress in a market area with the exception of some sites that are occupied by snipers, Boras said.
He pointed out that it is now the time to negotiate with some of the fugitive pro-Gaddafi remnants scattered in parts of Bani Walid, stressing that the "liberation" of the city is imminent.
The NTC has made repeated promises on the liberation of Sirte and Bani Walid in a timely fashion.
But along with its failure of doing so, it also witnessed a pro- Gaddafi demonstration in the capital, which has been relatively calm since it was controlled by the NTC in late August.
An ensuing violent clash broke out between the NTC fighters and scores of Gaddafi supporters, who attempted to raise the Gaddafi-era green national flag in the Abu Salim neighborhood in southern Tripoli after the Friday prayer.