Egypt's finance minister resigns after clash
CAIRO - Egypt's Finance Minister Hazem el-Beblawi has quit after less than three months in the post over the government's handling of a protest by Coptic Christians on Sunday night, an aide to Beblawi said on Tuesday.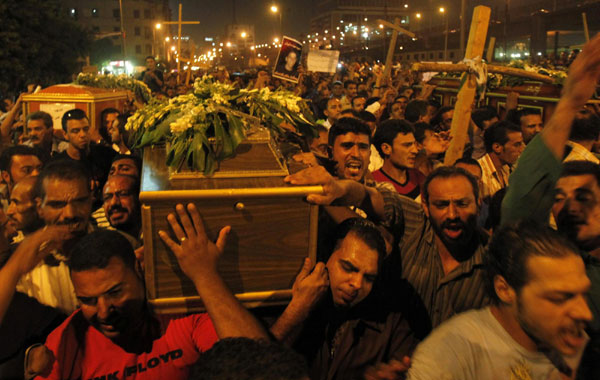 Egyptian Coptic Christians carry coffins as they make their way to Abassaiya Cathedral during a mass funeral for victims of sectarian clashes with soldiers and riot police, after a protest about an attack on a church in southern Egypt, in Cairo Oct 10, 2011. [Photo/Agencies]
The protest ended with clashes between the army and demonstrators that killed 25 people, making it the deadliest outbreak of violence since the ousting of Mubarak in February, and sparked anger among Copts and rights activists.  
Beblawi was appointed in July by the ruling military council which took power after the overthrow of President Hosni Mubarak earlier this year. His resignation was confirmed by state news agency MENA.
Beblawi resigned "in protest at the government's handling of the events at Maspero", the aide said, referring to the area of Cairo where the clashes took place.
"Despite the fact that there might not be direct responsibility on the government's part, responsibility lies, ultimately, on its shoulders," state news agency MENA quoted Beblawi as saying.
Beblawi has been negotiating with Gulf Arab states for financial assistance to support a state budget that has ballooned as a result of Egypt's political turmoil.
The army replaced Beblawi's predecessor Samir Radwan after he secured a loan from the International Monetary Fund only to be forced to turn it down, partly because the ruling generals did not want to build up debts.
Beblawi said last week that Egypt was now reconsidering the IMF funding and was still in talks with Arab states for funds of close to $7 billion.
"Investors are looking for greater stability in public finances and for clarity on financial support from outside Egypt," said EFG-Hermes strategist Simon Kitchen. "In that context, the second resignation of a finance minister in four months is not encouraging."
News of Beblawi's resignation came shortly before the end of trading on the Egyptian Exchange, whose main EGX30 index closed down 2 percent.