Libya's NTC thinks Gadhafi hiding near Algeria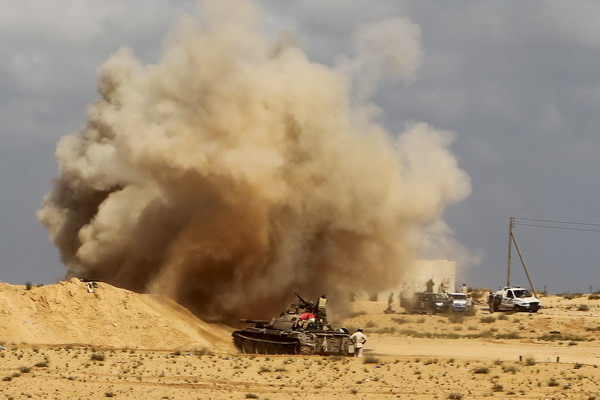 Smoke rises as anti-Gadhafi fighters fire from a tank during clashes with pro-Gadhafi forces, about 1 km (0.6 miles) from the entrance of Sirte, Sept 28, 2011. Intense sniper and artillery fire from pro-Gadhafi fighters has so far prevented National Transitional Council (NTC) forces from taking Sirte despite more than two weeks of fighting and two full-on assaults. One of Muammar Gadhafi's last two bastions, it has withstood a siege, NTC tank and rocket fire as well as NATO air strikes, and the United Nations and international aid agencies are worried about conditions for civilians trapped inside. [Photo/Agencies]
SIRTE - Libya's new rulers said on Wednesday they believed fugitive former leader Muammar Gadhafi was being shielded by nomadic tribesmen in the desert near the Algerian border, while his followers fend off assaults on his hometown.
Intense sniper and artillery fire from pro-Gadhafi fighters has so far prevented National Transitional Council (NTC) forces from taking Sirte despite more than two weeks of fighting and two full-on assaults.
One of Gadhafi's last two bastions, it has withstood a siege, NTC tank and rocket fire as well as NATO air strikes, and the United Nations and international aid agencies are worried about conditions for civilians trapped inside.
More than a month since NTC fighters captured the capital Tripoli, Gadhafi remains defiantly on the run pledging to lead a campaign of armed resistance against the new leaders.
Gadhafi himself may be holed up near the western town of Ghadames, near the Algerian border, under the protection of Tuareg tribesmen, a senior NTC military official said.  
"There has been a fight between Tuareg tribesmen who are loyal to Gadhafi and Arabs living there (in the south). We are negotiating. The Gadhafi search is taking a different course," Hisham Buhagiar told Reuters, without elaborating.  
Many Tuaregs, nomads who roam the desert spanning the borders of Libya and its neighbours, have backed Gadhafi since he supported their rebellions against the governments of Mali and Niger in the 1970s and allowed them to settle in Libya.  
Buhagiar said Gadhafi's most politically prominent son, Saif al-Islam, was in the other final loyalist holdout, Bani Walid, and that another son, Mutassem, was in Sirte.
Struggle for Sirte
Lack of coordination and division at the front-line have been hampering NTC attempts to capture Sirte and Bani Walid.
Fighting continued on separate eastern and western fronts in Sirte on Wednesday and commanders said they would try to join the two fronts together and take the city's airport.
"There is progress toward the coastal road and the airport.... The plan is for various brigades to invade from other directions," NTC fighter Amran al-Oweiwi said.
Street-fighting was under way at a roundabout 2 km (1.5 miles) east of the town centre, where anti-Gadhafi fighters were pinned down for a third day by sniper and artillery fire.
As NATO planes circled overhead, NTC forces moved five tanks to the front but were immediately met with Grad rockets fired from inside the town, missing the tanks by only yards.
A Reuters crew at the scene saw several NTC fighters flee the front-line under heavy fire while others stood their ground.
"If I die, I'll die proud," one fighter shouted as he left a group of hiding comrades and ran back to the front.
"At the buildings! At the buildings!" an NTC commander ordered fighters manning the tanks, in an apparent attempt to target snipers, as thick black smoke rose over the town.  
On the western front, fighters leapt into pick-up trucks mounted with machineguns and anti-aircraft guns and raced in the direction of the airport.
Medical workers said 15 fighters were killed in Sirte on Tuesday, the highest single-day death toll. Two more, including a senior NTC field commander, were killed on Wednesday. More than 100 fighters were wounded, many from sniper fire.
NTC fighters captured 60 African mercenaries in Sirte on Wednesday. They said most had come from Chad and Mali to fight with Gadhafi loyalists.
A commander leading the attack on Sirte said on Tuesday he was in talks with elders inside the city about a truce, but the head of an anti-Gadhafi unit on the east rejected negotiations.
In Tripoli, a senior NTC officer said his fighters, on entering Sirte two days ago, had found and seized a helicopter under camouflage that appeared to have been made ready for a swift departure. He told Reuters he suspected the helicopter was assigned for the use of a senior official of the ousted Gadhafi government, possibly one of Gadhafi's sons.