Pro-Gaddafi mercenaries carry out reprisals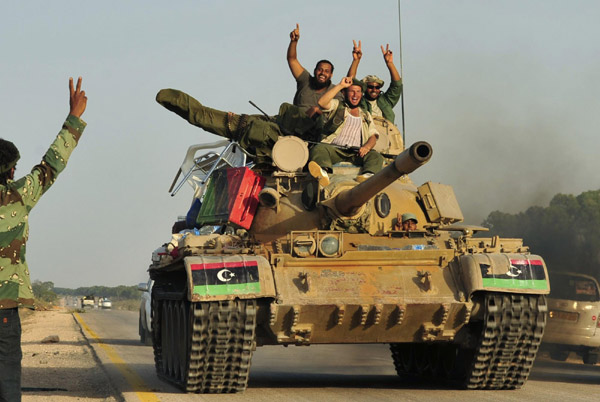 Anti-Gaddafi fighters cheer as they move their tanks forward towards Sirte from Talatheen, 30 km (19 miles) east of Sirte, September 25, 2011. [Photo/Agencies]
TUNIS - African mercenaries were carrying out reprisals in the Libyan town of Sirte in reaction to the assault of National Transition Council (NTC) forces against the town, the Tunisian press agency TAP reported Sunday.    
"There are African mercenaries on a rampage in the town, shooting on houses with anti-aircraft weapons", TAP quoted a witness who fled the town on Sunday morning.
All the main buildings in the town's main street have been damaged, said the witness, a computer instructor who told TAP on condition of anonymity for fear of reprisals against his family who are still in the town.
The witness also claimed that he have seen on two occasions during the last three weeks, one of Gaddafi's sons, Moatassem, in a command center located in a local hospital in Sirte.
NTC forces launched on Saturday a new assault on Sirte, hometown of Libya's fallen leader Muammar Gaddafi.
NTC fighters said on several occasions that Moatassem had been seen in Sirte. "We heard him giving instructions on the radio," said Saturday a NTC commander, Oussama Muttawa Swehly, according to TAP.