Latest developments in the Libyan conflict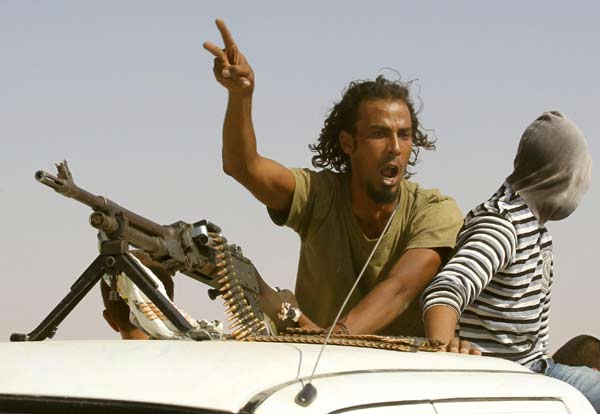 An anti-Gadhafi fighter shouts "God is Greatest" after he came back from the frontline, at a strategic checkpoint north of the besieged Libyan city of Bani Walid September 18, 2011. [Photo/Agencies]
Sept 18 - Following are the latest political and military developments in the Libyan crisis.
* Libyan interim government forces bent on seizing Muammar Gadhafi's remaining strongholds fell back after another chaotic attack on the desert town of Bani Walid on Sunday, but renewed their battle for the deposed leader's birthplace of Sirte.
* Powerful explosions and sustained machinegun fire rattled Bani Walid on Sunday as fighters loyal to Gadhafi shelled positions held by interim government forces around the town.
* Interim government forces charged back into Bani Walid on Saturday, a day after diehard Gadhafi loyalists beat them into a humiliating retreat.
* Fighting resumed in the town as loyalists shelled a key checkpoint controlled by transitional government forces on its northern outskirts.
* Gadhafi's spokesman told Reuters on Saturday NATO air strikes on the ousted leader's home city of Sirte overnight had hit a residential building and a hotel, killing 354 people.    
* NATO said it conducted 106 air sorties on Saturday, 42 of them strike sorties to identify and hit targets.
* It said key targets hit included:
-- Two command-and-control nodes, four multiple rocket launchers, one armed vehicle, four surface-to-air missile systems in the vicinity of Sirte
-- Nine anti-aircraft guns in the vicinity of Hun
-- One command-and-control node, one vehicle storage facility in the vicinity of Al Jufra
-- One armed vehicle, one armoured vehicle, one multiple rocket launcher in the vicinity of Sheba.
* Since NATO took command of air strikes on March 31, its aircraft have conducted  23,044 sorties including 8,645 strike sorties. NATO members participating in air strikes include France, Britain, Canada, Denmark, Belgium, Italy and the United States.
* Fourteen ships under NATO command are patrolling the central Mediterranean Sea to enforce a U.N. arms embargo. On Saturday, 16 vessels were hailed to determine destination and cargo. Two were boarded and none was diverted.
* A total of  2,6 85 vessels have been hailed, 2 87 boarded and 11 diverted since the start of the arms embargo.