Team China showcases talents in mixed events at Worlds
Editor's note: The biennial FINA World Aquatics Championships gathers talented athletes from all over the world to compete in a variety of aquatic sports. Among the teams, the mixed pairs are well known for their diversity and innovation. Here we introduce some from China.
Mixed 10-meter Synchronized Diving
Ren Qian (Female), Lian Junjie
Gold medal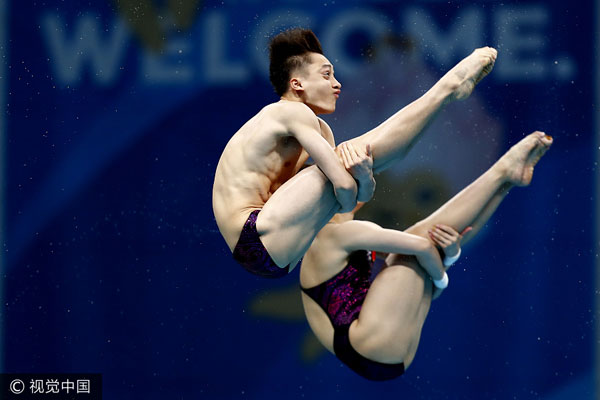 Ren Qian (Rear) and Lian Junjie of China compete in the mixed 10m platform synchronized diving final at the 17th FINA World Championships at Duna Arena in Budapest, Hungary, on July 15, 2017. [Photo/VCG]
China's divers Ren Qian and Lian Junjie won the mixed 10-meter synchronized diving title for the country's first gold medal at the 17th FINA World Championships in Budapest, Hungary, July 15.
Ren and Lian, who won at all four meets at the FINA Diving World Series this season, produced a near flawless performance ranking first after each of the five dives for a total of 352.98 points. The 16-year-old Lian became the first man born after 2000 to win a diving medal at the worlds.
Britain's Matthew Lee and Lois Toulson took silver with 323.28 points, while Kim Mi-rae and Hyon Il-myong won bronze for Democratic People's Republic of Korea with 318.12 points.
Most Popular
Highlights
What's Hot