Sebastian Vettel wins Hungarian F1 Grand Prix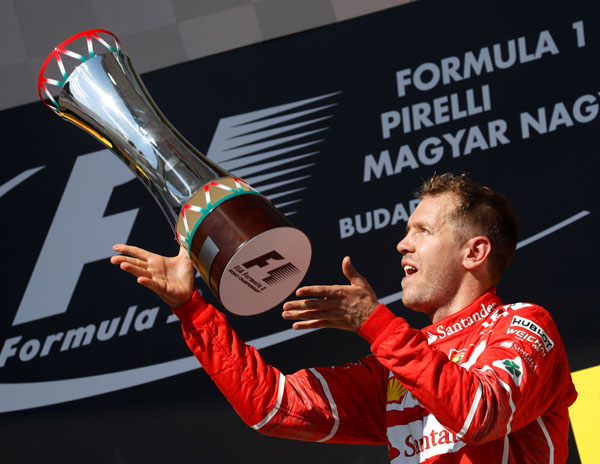 Ferrari's Sebastian Vettel celebrates winning the race on the podium with the trophy at the Hungaroring racing circuit in Budapest, Hungary July 30, 2017. [Photo/Agencies]
MOGYOROD, Hungary - It was a perfect race day for the Scuderia Ferrari with Sebastian Vettel winning and Kimi Raikkonen placing second at the Hungarian F1 Grand Prix at Hungaroring in Mogyorod, Hungary on Suandy.
Third was Merces' Finnish driver Valtteri Bottas. Vettel's main rival for the F1 title, British Lewis Hamilton finished in 4th place.
This is Vettel's 46th career victory. He has won once previously in Hungary for Ferrari in 2015.
The race started with a first lap crash between Red Bull's drivers Max Verstapen of Netherlands and Australian driver Daniel Ricciardo. Ricciardo had to retire and that brought out the safety car.
It was not an easy race for Vettel as he had quite some problems with steering after the safety car period. He managed to stay in front and won, extending the championship lead to 14 points.
After the first lap crash, Red Bull's Dutch driver Max Verstapen was penalised with 10-second penalty and managed to finish in 5th.
It was season best finish for McLaren's Fernando Alonso of Spain finishing in 6th, beating Spanish Carlos Sainz in Toro Rosso. Mexican Sergio Perez was faster than his team-mate in Force India, Esteban Ocon of France, with Stoffel Vandoorne of Belgium completing the top ten.
The drivers are now heading for the in-season test on Tueasday and Wednesday on Hungaroring and after the tests, summer break with the next race taking place in legendary Spa-Francorchamps in last weekend of August.
Most Popular
Highlights
What's Hot