Guizhou builds reputation as off-road racing destination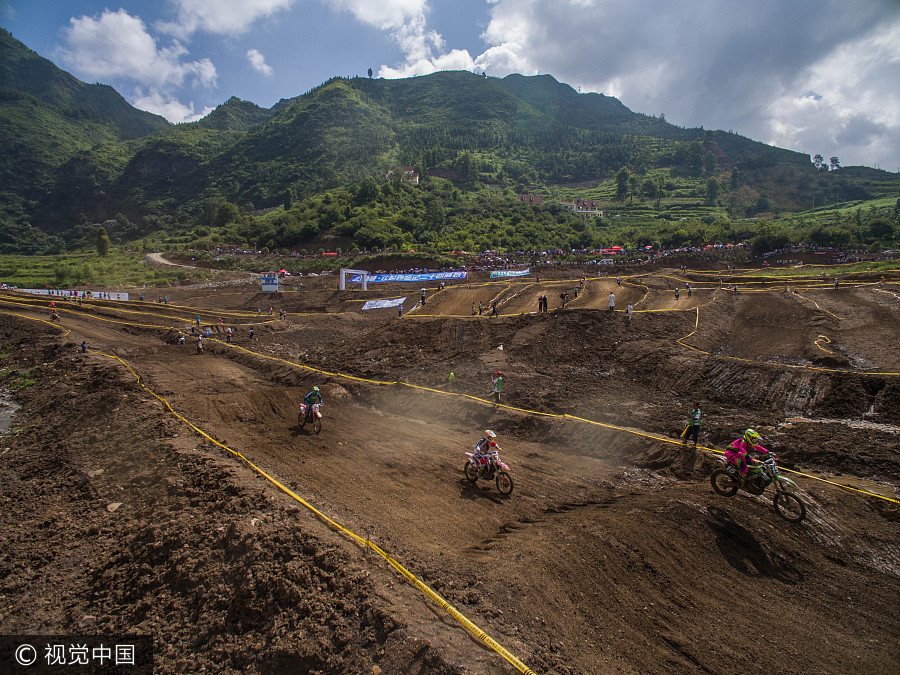 Riders compete in a previous motorcycle event in Guizhou, August 21, 2016. [Photo/VCG] 
Hundreds of riders from more than 10 countries will compete in next month's cross-country motorcycle tournament in Southwest China's Guizhou province.
The China Cross-country Motorcycle International Invitational Tournament starts Aug 27 at Shangsi Town, Dushan County, Qiannan Prefecture.
"We are all excited about the forthcoming event as it is our first time to host such a big international motorcycle competition," deputy chief of Dushan County Rong Huaying told China Daily website.
"The county is endowed with unique geographical advantages of Karst landscape, which is much more suitable for off-road sports," she said.
While the county has hosted other motorcycle races, this is the first one with international competitors.
"It will be a visual feast for local audiences because they can easily capture drivers' facial expressions, body movements as well as their emotional signals as soon as they ride on," Lin Jie, vice-chairwoman of the Federation of Automobile and Motorcycle Sports of China, said.
"Unlike car competitions where drivers sit inside, this one is expected to be much tougher and fiercer."
From the National Short Track Racing Rally in May to July's Guiyang International Marathon, Guizhou has been promoting sports events, particular mountainous activities.
In 2014, China released a plan to speed up the development of its sports industry, boost sports consumption and promote public fitness.
In a bid to encourage people's enthusiasm for participation in sports, the landlocked Guizhou province is spending big on mountainous or outdoor activities with 3.5 billion yuan ($509.81 million) going towards 100 ecological sport parks.
About 7.5 billion yuan ($1.1 billion) will be used to set up camping bases and another 200 million yuan ($30 million) will also be invested in one or two training bases, according to the Sport Administration of Guizhou Province.
Participants in next month's tournament will be divided into six teams and winners will be awarded 350,000 yuan ($52,000).
"The event tries to bring local tourism, sports and ethnic minority culture into one, which will be developed into an important and new window of opportunities for Guizhou," Party chief of Shangsi Town, Yang Fei, said.