Key changes to China's judicial system since 2012
Editor's note: Since the 18th CPC National Congress in late 2012, a number of key judicial reforms have been carried out.
As China enhances the rule of law in all respects, new progress has been made in the field of justice. The reform of the judiciary has gone to the next level, with improvements in the allocation of judicial powers and responsibilities, judicial accountability and opening-up, and protection of lawyers' right to practice.
Let's take a look at some of the key changes made in Chinese judicial reforms in the past five years.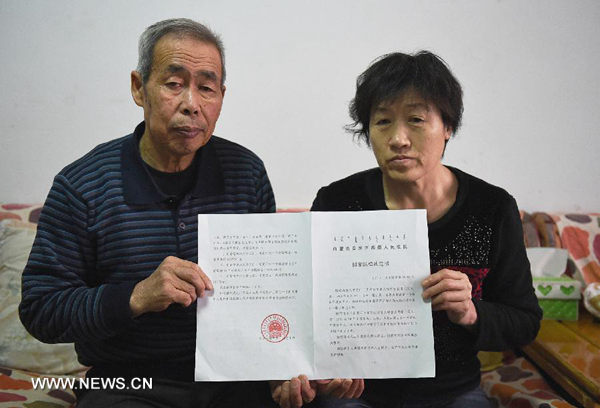 Li Sanren (L) and Shang Aiyun, parents of Huugjilt, who was wrongly executed for rape and murder at age 18, show the verdict of state compensation totaling more than 2 million yuan (about $322,000) in Hohhot, capital of North China's Inner Mongolia autonomous region, on Dec 31, 2014. On Dec 15, 2014, the Inner Mongolia Autonomous Regional Higher People's Court overturned Huugjilt's previous conviction and ruled he was not guilty of rape and murder, saying that the facts of his case were unclear and evidence was inadequate. [Photo/Xinhua]
1. Preventing miscarriages of justice
In 2013, the Ministry of Public Security issued a circular on improving law enforcement to help prevent miscarriages of justice, along with other documents designed to stop improper verdicts and improve real-time scrutiny of law enforcement.
The Ministry of Justice strengthened forensic assessment management and further regulated such activities. The Supreme People's Procuratorate released a circular on preventing and correcting miscarriages of justice by improving procuratorial functions. The Supreme People's Court stipulated that defendants should be acquitted if evidence is insufficient.
From 2012 to 2017, a number of wrongful convictions were overturned in accordance with the law.