Team China showcases talents in mixed events at Worlds
Mixed 3-meter Synchronized Diving
Wang Han (Female), Li Zheng
Gold medal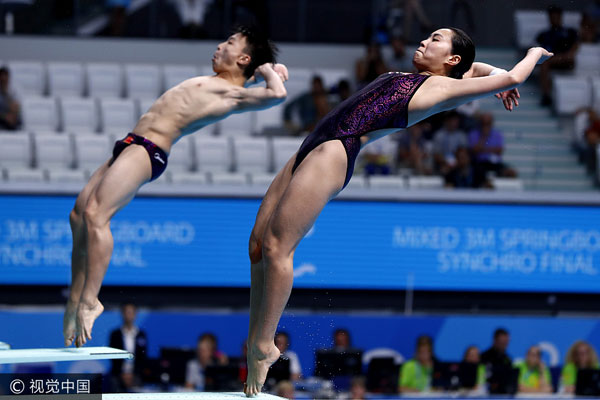 Li Zheng (Back) and Wang Han of China compete in the mixed 3m platform synchronized diving final at the 17th FINA World Championships in Budapest, Hungary, on July 22, 2017. [Photo/VCG]
Li Zheng and Wang Han together earned the Chinese diving team their eighth gold medal at the 17th FINA World Championships in mixed 3-meter synchronized diving in Budapest, Hungary, on July 22.
Li and Wang finished first with 323.70 points winning in five rounds. British duo of Grace Reid and Thomas Daley took the silver at 308.04, while the bronze went to Jennifer Abel and Francois Imbeau-Dulac of Canada at 297.72.
For the 17-year-old Li, the maiden World Championships journey was quite not different from other tournaments where he participated.
"Maybe there are more crowds, and the light is more spectacular here at the worlds," he said with smile.
Most Popular
Highlights
What's Hot