Team China showcases talents in mixed events at Worlds
Mixed Duet Free of Synchronized Swimming
Sheng Shuwen (Female), Shi Haoyu
Eighth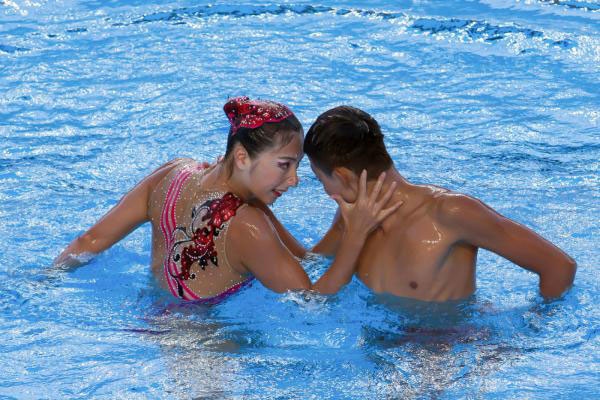 China duo Sheng Shuwen and Shi Haoyu perform during the mixed duet free final of the 17th FINA World Championships in Budapest, Hungary, July 23, 2017. [Photo/Xinhua]
The final day of synchronized swimming saw the Chinese pair Sheng Shuwen and Shi Haoyu positioned eighth at 77.2333 points during the mixed duet free final of the 17th FINA World Championships in Budapest, Hungary, July 23.
Shi swam with partner Sheng, writing history as the first Chinese male swimmer ever to compete in a synchronized swimming event at FINA Worlds.
Shi, who turns 16 in October, trained as a swimmer since he was a kid, but was persuaded by coach Lu Liya to try synchronized swimming three years ago, as two mixed duet events were added to the 2015 World Championships in Kazan.
Their routine was called "Swing Night", which tells a romantic a story. A man and a woman have crushes on each other after they meet at a party.
Most Popular
Highlights
What's Hot