Who has the right of way on zebra crossings?
Editor's notes: Since June, Beijing traffic police have begun enforcing a fine of 200 yuan ($29) and deduction of three demerit points for motorists who fail to give way to pedestrians on crosswalks. Do pedestrians always have priority on crossroads? Forum readers share their opinions.
fatdragon (UK)
I'm a foreigner so I'm chicken and I very quickly learnt that you when I intend to cross the road I look left, right, up, down, back and front and keep looking as I make the crossing if I want to stand a chance of reaching the other side in one piece. I do have to make an extra effort in China because the driving is not as predictable here. I have also learnt to read the body language of people, bike riders and cars because they subconsciously betray their intentions before they change direction even if they commonly don't bother to use signals.
In the UK we tend to drive faster in straight lines so are predictable but in China there seems to be a compulsion to overtake even if it gains no advantage. As a result Chinese drivers have developed a spatial awareness but when you consistently drive like a snake an accident is inevitable because the other snakes become unpredictable.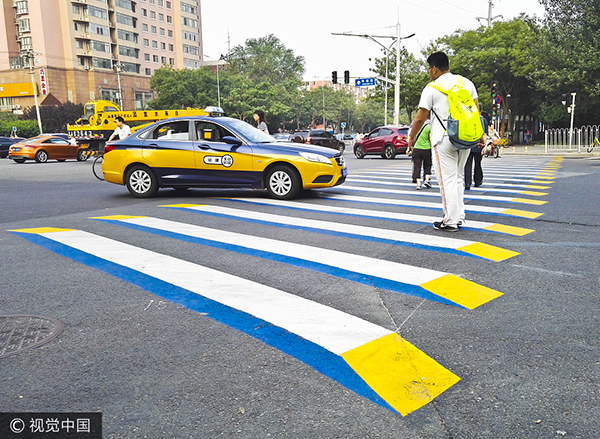 Pedestrians cross a road on three-dimensional zebra lines in Haidian district in Beijing, June 30, 2017. The three-color stripes, designed to improve road safety, can be seen by drivers and walkers during both day and night. [Photo/VCG]