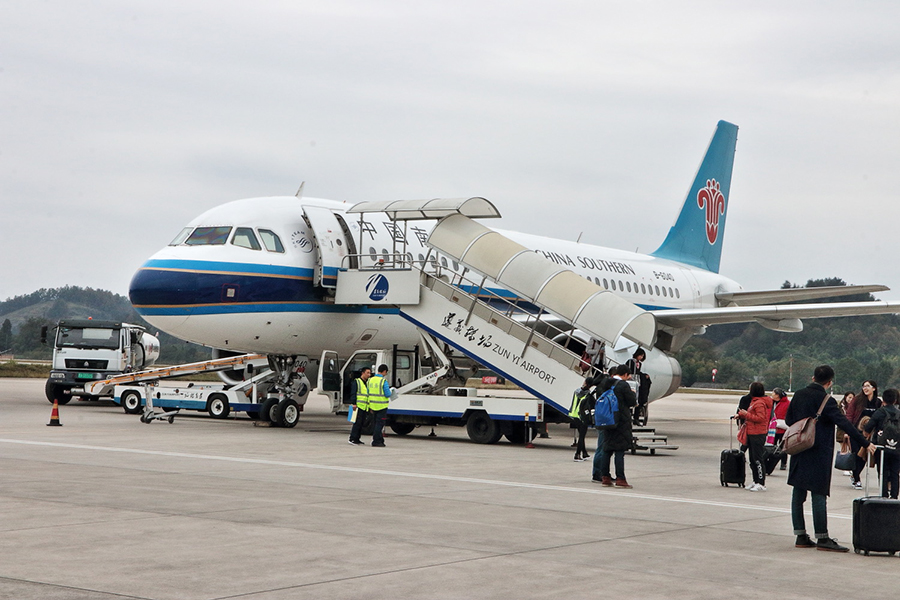 Zunyi Airport - flight from Beijing. [Photo by Bruce Connolly/chinadaily.com.cn]
Traveling by train is often a good way to view a country, to look not just at the landscape but also the levels of development. In 1995 a journey from Beijing to Kunming led me from Hunan through Guiyang, Anshun and Liupanshui. Later rail journeys took me through central and southwestern Guizhou. Although never actually staying in the province, the impression was of an economic and lifestyle disparity between fast growing eastern cities and what then was a relatively remote mountainous part of China. Guizhou was often touted as one of the least developed, poorer provinces. However, it appeared to me that most deprivation was concentrated mainly within mountainous rural villages often lacking adequate road connections. Access was along rough tracks, transport by packhorse. These upland areas were home to ethnic nationality groups. However I did feel there was potential for Guizhou due to its stunning topography: a geology featuring large limestone caves and dramatic waterfalls, a climate allowing lengthy periods of cultivation, and of course the ethnic diversity which has long been a draw for tourists. Later I would discover Guizhou's close association with the famed Long March in 1935. I believed that if a modern infrastructure was laid down then the area's potential could be unleashed.
Accepting a recent invitation from China Daily to visit Guizhou, I still expected lingering rural poverty. On arrival my preconceptions were quickly dispelled.
A modern Airbus jet connected Beijing to Zunyi, Guizhou's second city, in under three hours. A 40-minute journey from the airport to downtown by expressway was an eye opener. Initially the route along a forested valley passed modern villages - there were very few signs of the older wooden buildings I remembered. This gave way to a new area of modern university campuses, high-tech zones, smart hotels and a mixture of real estate development. Environmental work included a network of cycleways weaving through well-maintained parklands. A far cry from what I had imagined for Zunyi. Closer to downtown, administrative buildings and a new cultural centre rose above squares and landscaped lakes within a clean, well-maintained setting. Indeed what I saw could easily replicate longer-developed eastern cities although lower land prices and less urban pressure meant more space for extensive green environments, including Xinpu Wetland Park. I did however notice a significant number of women with babies strapped to their backs - Guizhou' s ethnic nationalities were not subject to the two-child policy – and there appeared to be many young people.