Impression of a Guizhou trip with China Daily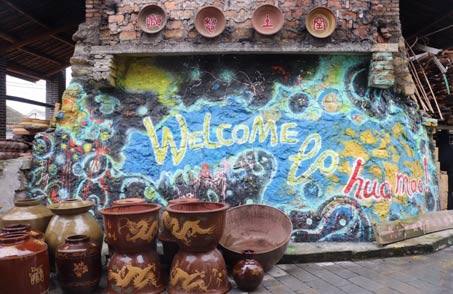 A colorful sign welcomes visitors to Huamao, Southwest China's Guizhou province. [Photo by Anastasia Sukhoretskaya/chinadaily.com.cn]
I had the pleasure of being invited on a trip to Southwest China's Guizhou province with foreign and Chinese media experts and scholars to see the autumn beauty of Southwest China, as well as tread the road where China's greatest history was made. We learned a lot about the history of China and, visited Huamao and Gouba villages and Zunyi town.
The picturesque villages of Huamao and Gouba villages are close to the historically important town of Zunyi. In 1935 the legendary Long March of China's Red Army passed through Guizhou, where in different places they staged meetings.
These meetings were of significant importance to the people of China, as they helped shape the future of the CPC and the country on the whole. It was in Zunyi, where Mao Zedong was elected as the leader of China's Red Army, which literally meant that he became the frontrunner of the newly emerging country. Huamao and Gouba also played important roles in this fateful event – they became two of the meetings spots among other places, including Zunyi.
Starting from 2014, Huamao village has gained popularity as a tourist destination in China. Apart from that, it is included in the state program of eliminating poverty in the rural part of the country. The local government has beautified the village by cleaning the streets, removing waste and trash, and renovating locals' houses.To attract tourists, the government helped villagers to develop and merchandize local crafts, for example, pottery. However, the village became even more popular after President Xi Jinping visited in 2015. At the recent 19th Party Congress, Huamao village's delegate spoke up about the huge progress and life improvement the villagers witnessed in recent years, and also mentioned about the increase of tourism into the area.
Without a doubt, it's hard not to notice how accurate and homelike welcoming the houses in both villages look like. Their inhabitants, being inspired by these amazing changes, take good care of the neatness and order in their places, while crispy autumn air and, the beauty of mountains and nature add a special grace to the whole picture of a Chinese countryside scene.
The author is a senior blogger with China Daily.