Sales records marred by too many gripes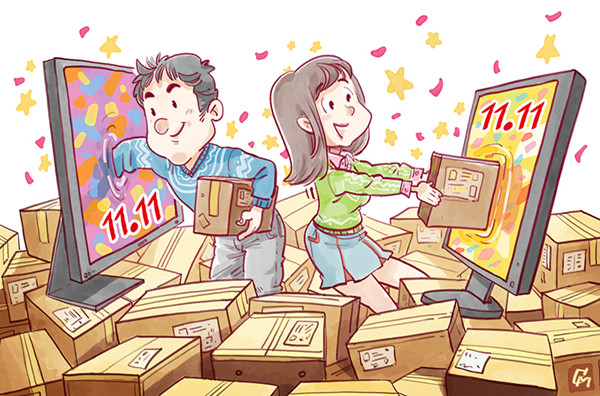 Cai Meng / China Daily
THIS YEAR'S NOV 11 annual online shopping spree has ended, and one e-commerce platform after another has announced their sales reached record-high. Yet behind that there is hidden risk, comments Beijing News:
The two leading domestic e-commerce platforms, namely taobao.com and jd.com, have announced total sales of 168.2 billion yuan ($25.3 billion) and 127.1 billion yuan respectively, both of which were records.
That shows the appeal of the shopping gala, in which retailers offer special discounts on their goods. Yet this year many consumers have complained that they have been misled into believing the discounts are higher than they actually are.
Weeks before Nov 11, retailers had already bombarded consumers with emails and short text messages claiming there would be high discounts, yet when the day came, after complicated calculations, the discounts were not as high as they were claimed to be.
As a result, many consumers, feeling they have been misled, have expressed the intention of returning the goods they purchased during the festival and canceling their orders.
The return and cancellation rates are not known yet, but they might be quite high considering the large numbers of complaints online.
That should be a lesson for both e-commerce platforms and online shops. In some sense, the Nov 11 shopping festival has become a competition for numbers: Shops compete for higher sales while platforms compete to attract more consumers as a testimony to their influence. Eight years since it was first born in 2009, Nov 11 has already lost its initial purpose.
That implies risk for the e-commerce industry. With more consumers expressing complaints, Nov 11 might gradually lose its appeal.