EU could take a leaf out of China's book on diplomacy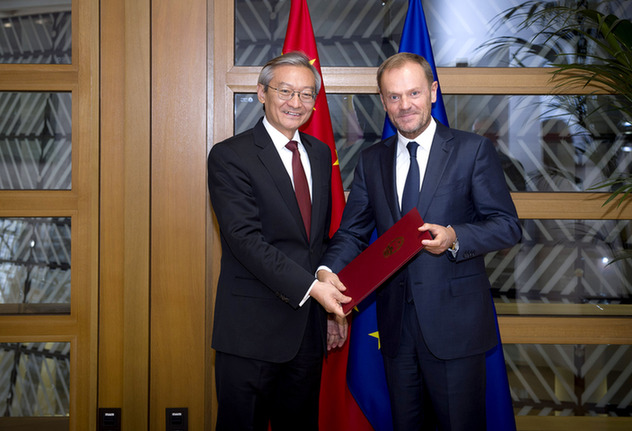 Zhang Ming, China's new ambassador to the EU, submitted his national credentials to European Council President Donald Tusk on 8 Nov, 2017  in Brussels. [Provided to China Daily]
This time last year, as the world was coming to terms with Donald Trump winning the US presidential election, Europeans and Chinese worried about the president-elect's provocative rhetoric and what he would do in office.
Last week, Trump visited China and tweeted his sincere thanks to President Xi Jinping after concluding possibly his happiest foreign visit yet, and vowed to build even stronger relations with China.
There was much work done behind the scenes to make his visit such a success and much more is required to maintain the current positive momentum in Sino-US relations, although the deals worth billions of dollars agreed during his trip showed the potential that can be tapped by strengthening their cooperation.
How the relationship between China and the United States has developed should offer food for thought for the European Union, when it considers its relationship with the world's major countries.
Many European opinion leaders are not satisfied with the quality of the EU's relations with the US, Russia, China, and even Turkey. They say that Europe's relations with these countries should not be so bad.
It could learn something from China's experiences and diplomatic approach.
China does not believe in the outdated zero-sum game, which the West has insisted on for so long. China believes in seeking harmony when developing foreign relations, and especially in its pursuit of a new type of major power relations featuring coordination and cooperation.
The Chinese leadership knows that good relations with the US president and his country are crucial for China's development and world peace and prosperity.
Such a sincere and proactive approach has helped foster good relations with Trump and the US. It would not have been possible if China had acted as EU does when it deals with the US.
The last meeting between Donald Trump and European leaders was not fruitful, although European Council President Donald Tusk invited Trump for a summit as soon as he was elected.
And even though the EU has highlighted it as one of the bloc's 10 priorities, the talks on their Transatlantic Trade and Investment Partnership have been shelved.
Of course, it is not only the EU that should be blamed for the frosty relations with the US, whose healthy development is critical for the global family. However, the EU, as a global player, could follow China's example by being more pragmatic in its diplomatic approach toward the US so as to ensure global development, peace and security.
The EU usually bears this in mind in its dealings with China. Many EU member states, for example, the United Kingdom, Germany, the Czech Republic, Hungary and Greece, have already forged close ties with China.
President Xi visited the headquarters of the EU in early 2014, calling on both sides to become partners for peace, growth, reform and civilization. And in a recent interview, former European Council president Herman Van Rompuy said he was impressed by Xi's proposals when he received the Chinese president.
Last week, when meeting Zhang Ming, the head of the Chinese mission to the EU, European Council President Tusk said he treasured his sound personal and work relations with Chinese leaders and China had a high priority in the EU's foreign relations.
Such recognition is encouraging. But what is more important is for both sides to take concrete actions to make the Sino-EU relationship even closer and stronger. That would be beneficial for the two sides whose combined population is almost 2 billion.
The author is deputy chief of China Daily European Bureau.
fujing@chinadaily.com.cn