Japan-ROK rift means military alliance with US not possible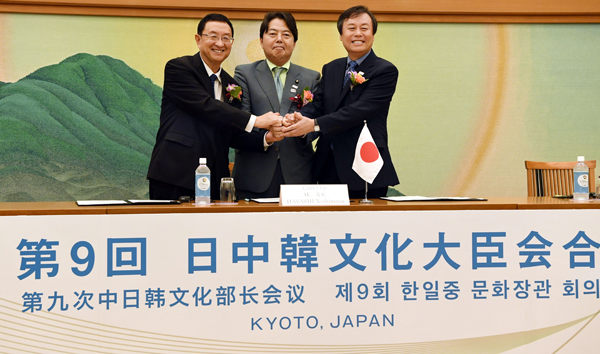 Chinese Minister of Culture Luo Shugang and his Japanese and South Korean counterparts Yoshimasa Hayashi and Do Jong-whan attended the ninth China-Japan-ROK Cultural Ministers' Meeting on Aug 26, 2017. [Photo/Xinhua]
Japan and the Republic of Korea, both US allies, watched closely how the other hosted US President Donald Trump when he visited the two countries last week. Compared with his one-night stay in Seoul, Trump's three-day visit to Tokyo gave Japanese Prime Minister Shinzo Abe more time to tee off and talk with the US president.
Also, the news that Trump and Abe have reached a consensus on building a free and fair "Indo-Pacific region" made some ROK newspapers speculate whether Seoul's diplomatic influence was waning.
Days before her father's first Asia visit as US president, Ivanka Trump visited Tokyo to address the World Assembly for Women. Abe stood at the doorstep of a restaurant for 13 minutes just to give her a treat, and pledged $50 million to a women's entrepreneurship fund initiated by Ivanka. The ROK media jeered Abe for paying such "obeisance" to Trump and his daughter.
During his visit, Trump addressed Abe by his first name, Shinzo, displaying a close personal bond between them, which Japanese officials and media preferred to call the "honeymoon" bond. Throughout Trump's stay, the two exhibited their "bromance", heaping lavish praise upon each other as exchanging fist-bumps on the fairway and told the world at their joint press conference that Tokyo and Washington "have never been closer".
The two leaders said their countries' alliance is "unshakable", although Trump made no bones about Japan's "massive" trade surplus, nearly $70 billion last year, and said he was committed to establishing a "fair, free and reciprocal" trading relationship with Japan.
After Trump landed in Seoul, it was Japan's turn to observe the proceedings.
Tokyo protested against the invitees to the banquet ROK President Moon Jae-in hosted for Trump on Tuesday night. The reason: an 88-year-old guest was one of the few surviving "comfort women", a euphemism for the tens of thousands of women, mostly from Asian countries, forced to serve as sex slaves of Japanese soldiers before and during World War II. Japanese Chief Cabinet Secretary Yoshihide Suga said the "comfort woman" should not have been invited because Japan and the ROK reached an agreement in 2015 to "finally and irreversibly" settle the issue.
Japan was not happy also because the shrimps served at the banquet were from the waters off a pair of islets that are at the center of a dispute between the two countries. They are known as Dokdo in the ROK and Takeshima in Japan.
Given that greater coordination among the United States, Japan and the ROK is required to deal with the Democratic People's Republic of Korea's nuclear issue, and that Trump chose Japan and the ROK as the first stops on his Asia visit, Suga said there is a need to avoid making moves that could weaken the "close coordination" among the three sides.
Trump's visit to the ROK has once again brought to the fore the frictions between the US' two allies. And Trump on his part, before leaving the ROK, tweeted that his visit to Japan and friendship with Abe will yield many benefits for the US while highlighting the "massive military and energy orders" he expects.
Trump's expectation will be a very good excuse for Japan to enlarge its defense budget, which has risen every year since Abe returned to power in December 2012. Japan has already decided to purchase 42 F-35 aircraft and introduce the expanded "Aegis Ashore" ground-based defense system. Next year, it will upgrade its Mid-Term Defense Program for 2019-23.
Both Japan and the ROK want to strengthen their respective alliance with the US. And some experts say it is time the US, Japan and the ROK built up a military alliance, too, which Moon has dismissed. The feud between Tokyo and Seoul will only make that even more difficult.
The author is China Daily Tokyo bureau chief.
caihong@chinadaily.com.cn