Singles Day sales record shows vitality of domestic consumption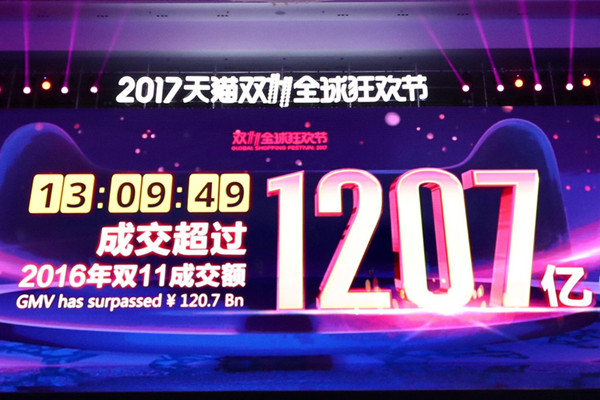 Sales on Alibaba's platforms race above 120.7 billion yuan ($18.2 billion) as of 1:09 pm Saturday.[Photo/IC]
SATURDAY MARKED the annual Nov 11 online shopping sales. The total amount generated in the sales this year is not yet known, but it will definitely set a record because within 13 hours it had exceeded 120.7 billion yuan ($18.1 billion), the total for the whole day last year. The Economic Observer comments:
Since it was launched in 2009, the Singles Day shopping carnival has set new sales records every year and the rate at which the total value of sales has been growing has accelerated.
Why is this? The rapid popularization of e-commerce in China is definitely the main cause. China now has 750 million internet users, of which 96 percent use the mobile internet, which is a consumption force comparable with no other country.
From a broader perspective, the Nov 11 shopping gala also shows the tremendous consumption potential of the country. Nov 11 emerged out of people's willingness and capability to buy, and it shows the transition of the Chinese economy to consumption-led growth.
This consumption will also drive the growth of the domestic service sector as shown by the growing revenues of the express delivery companies, which offer quick and convenient shipments of the online purchases made by consumers.
From this point of view, Nov 11 can be viewed as part of an ongoing consumption revolution.
That consumption revolution will definitely redefine the label of "Made in China" and help Chinese enterprises win in the new global competition. There might be a day in the future in which Nov 11 stops setting new sales records, but the vitality domestic consumption brings to the Chinese economy will continue.