Mainland cities could learn from HK plan for low-income housing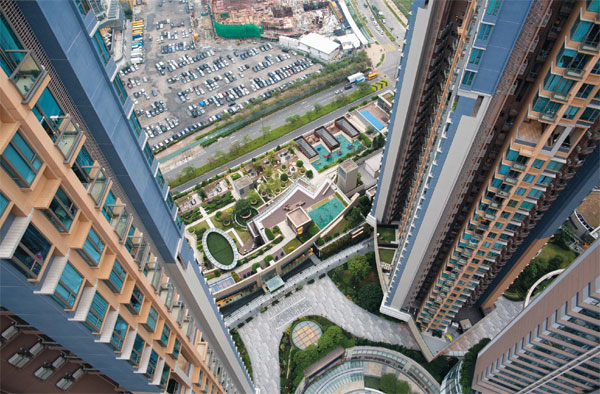 In the wake of rising property prices, increasing housing and land supply remains the government's key policy. Brent Lewin / Bloomberg
Hong Kong is well-known for its exorbitant housing prices and rents as well as cramped living spaces. With a severe shortage in the housing supply, high and ever-rising rents, low-income families in the city that do not own their own properties or enjoy public housing have no choice but to live in tiny subdivided apartments.
These apartments are usually created by dividing a larger one into several, each with its own kitchen (or just a place for stove) and toilet. Some subdivided apartments are even built inside old industrial buildings, which is illegal. However, the special administrative region's government has been largely tolerant of this practice.
According to figures released by the Census and Statistics Department, in 2015 there were around 200,000 residents living in 88,800 subdivided apartments, which is an underestimated number as it does not include those living in industrial buildings. The average per capita living space enjoyed by residents of subdivided apartment is only 62.4 square feet, or 5.8 square meters. In some apartments, the space is so small that the kitchen and toilet are placed together. Residents in these subdivided apartments are not only subject to poor living conditions but also facing potential dangers such as poor hygiene and fire hazards. However, the rents for these tiny apartments are still not cheap, with a median monthly rent of HK$4,200, equaling 3,630 yuan ($538).
To alleviate the housing woes of low-income residents and provide them with more decent accommodation, the new government of the special administrative region plans to offer an improved version of subdivided apartments. Frank Chan Fan, secretary for transport and housing, revealed on July 11 that the government is considering providing quality subdivided apartments to people in need, mainly those who are waiting for public housing. According to the plan, the government will offer funding to local nongovernmental organizations to rent old buildings, especially those waiting to be rebuilt. The buildings would then be revamped into subdivided units which would be more habitable than many currently in use. Residents who are in the queue for public housing would be eligible to rent the apartments at a subsidized price.
Although the proposed move of providing quality subdivided apartments is only a temporary measure and cannot resolve the housing shortage in Hong Kong, it could improve the situation of many subdivided apartment dwellers. Since these subdivided apartments would be provided by the government, they would have better hygiene and fire safety standards. The subsidized rents would also greatly help low-income families.
Subdivided apartments also exist in some mainland cities, especially metropolises with a large influx of immigrants. To deal with the safety concerns related to subdivided apartments, such as hygiene and fire hazards, a few cities have adopt a simplistic method-that is to ban them altogether. For example, Beijing banned subdivided apartments in 2011.
Though the issue of subdivided apartments should be addressed properly rather than adopting a laissez faire attitude toward them, forbidding them altogether may not be the wisest option. Their very existence proves their function, which is to provide shelter for low-income people in cities. If all subdivided apartments are banned, low-income workers will have no place to live in cities, causing a shortage of labor and a rise in labor costs. Eventually the general cost of living in these cities would inflate, affecting most urban residents.
Recently, nine ministries including the housing, economic planning and public security jointly released a document to encourage big and medium-sized cities to accelerate expanding their housing rental markets. In fact, cities that have a shortage of low-income rental housing could learn from Hong Kong's example and reduce the potential risks of subdivided apartments and improve their quality rather than ban them.
The author is an editor with China Daily Hong Kong edition