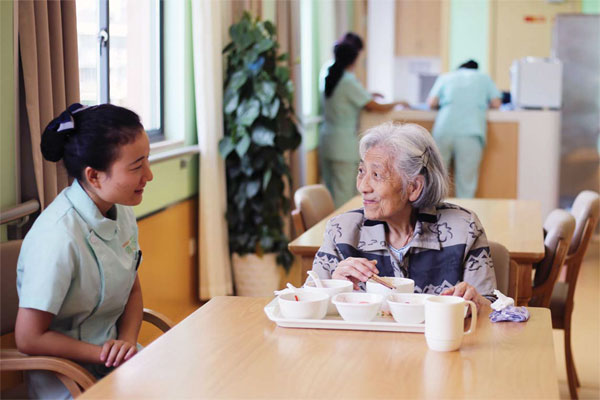 An elderly woman dines at a nursing home in Hangzhou. Fewer people in Asia are relying on their family in old age. In China, only 43 percent of people 65 to 70 years old live with their children, compared with two-thirds of them in the early 1980s. Sun Yidou / For China Daily
An early advocate of healthy living to stave off aging-related illnesses, Shigeaki Hinohara, a Japanese doctor, saw patients until just months before bidding farewell to this world at the age of 105 on Tuesday. In 1954, Hinohara introduced comprehensive annual physical tests, part of the preventive medical system said to contribute to Japanese people's longevity.
A fast-aging society, Japan has the highest percentage of senior citizens in the world-more than a quarter of its population is aged 65 or above. Japan had more than 65,000 centenarians last year. Based on United Nations documents, Japan has defined senior citizens as people aged 65 or above for more than five decades. At the current pace of aging, 33 percent of Japan's population is projected to be aged 65 or above in 2035, with its share in the total population rising to 40 percent in 2060.
Life after retirement-60 in Japan-is changing in the country. It can be a time for golf and/or swimming for some, but millions of people are clinging to full-time jobs, re-entering the workforce as part-timers, or even starting new businesses.
In 2015, a record 7.3 million people aged 65 or above were part of Japan's workforce, accounting for 11.4 percent of the total. A survey of senior citizens conducted by Japan's Cabinet Office showed that nearly 70 percent of the interviewees were willing to work beyond 65.
Many attribute Japanese people's longevity to their strong work ethic and busy social life. The rising number of senior citizens and their vibrant "golden" years have prompted Japanese doctors to call for a redefinition of the term "elderly". A joint committee of Japan Gerontological Society and Japan Geriatrics Society has recommended that people aged 65-74 be classified as pre-old age and those aged 75 or above be put in the "old age" category, with people past their 90th birthday being described as "super-old".
Japan's jobless rate may be joyously low at 3.1 percent, but the growing shortage of manpower is choking the country's growth and forcing businesses to retain their veteran employees, with a Reuters poll showing that more than half of Japanese companies plan to extend the retirement age.
And the Japanese government intends to change the pensionable retirement age from 60 to 65 by 2025 to maintain a large enough workforce to sustain the Japanese economy, and reduce the pressure on a shriveling tax base and rising social welfare bill. In its economic outlook report for the Asia-Pacific region in May, the International Monetary Fund called on Asian economies to learn from Japan's experience and act early to cope with rapidly aging populations, warning that parts of the region risk "getting old before becoming rich". The report projects the population growth rate in Asia to fall to zero by 2050 and the share of working-age people-now at its peak-to decline in the coming decades. The number of people aged 65 or above will increase rapidly to reach almost two and a half times the current level by 2050.
China's population is also aging rapidly, and its total population is projected to reach 1.42 billion by 2020, with the demographics shifting rapidly toward a much older society, similar to that in Japan. Thanks to increasing longevity, people want to be as active as they can-and for as long as possible.
Sarah Harper, director of Oxford Institute of Population Ageing, suggests that people in their 70s and 80s be considered active adults, adding that people should not be called old until they are seriously frail, dependent and approaching death.
As people are living a longer, healthier life in some parts of the world, a new definition of "old age" is called for, which should be followed by labor, pension and retirement reforms among other changes.
The author is China Daily Tokyo bureau chief.
caihong@chinadaily.com.cn