Why HR needs to embrace the digital age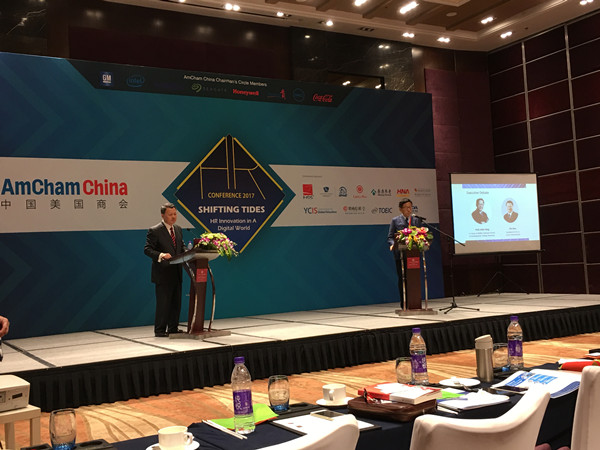 Prof. John Yang, Co-dean at BiMBA at National School of Development, Peking University and Xin Guo, President&CEO at Career International debate several HR criical issues during the meeting. [Photo provided to chinadaily.com.cn]
While companies race into the digital age at a breakneck speed, the HR departments attached to those companies are often running to catch up. However, they can function as an engine to differentiate successful firms from struggling ones.
As one of AmCham China's largest professional gatherings, the 18th annual Human Resource Conference was held in Beijing on Wednesday. The conference attracted more than 200 HR professionals and experts to discuss how to transform the way they recruit, develop and engage their employees, and utilize technology to address future challenges.
"This has been one of the largest and most successful HR conferences AmCham China has ever held," said Alan Beebe, president of AmCham China.
Beebe also mentioned a new wave of digital tools that can help companies focus not only on hiring but also on managing, retaining and developing employees.
"What takes all of us, as leaders, mentors, people managers, and who guide the process of identifying, developing and working with human talents, to ensure technology does the great thing that not only is it capable of doing but also what we want it to do, embodies our history, core values, corporate cultures and social norms, and above all, humanity, is the key question we ought to answer."
"This new era demands business leaders who are technologically savvy, agile entrepreneurial, and well-informed about global developments," said Professor Anil K. Gupta, Michael Dingman Chair in Strategy, Globalization & Entrepreneurship, Smith School of Business at the University of Maryland. "It's clear that the HR function is becoming ever-more important, ever-more strategic."
Professor Anil K. Gupta also argues that companies can capture substantial value by applying digital innovation to some of the most critical organizational challenges - matching the supply and demand for labor, boosting productivity, and getting the most out of people.
Stephen Shih, a partner in Bain & Company's Beijing office, who contextualized the challenges of HR professionals working in China by reporting on a recent study conducted by Bain in conjunction with LinkedIn. Their analysis of more than 25,000 LinkedIn profiles of professionals in China helped attendees better understand the rapid changes and fierce competition within the domestic labor market.
During the meeting, executive debates were featured around critical topics. They tried to answer questions such as should business leaders involve HR in large decision-making processes and should HR contribute directly to business performance?