Terrorism could raise anti-refugee sentiments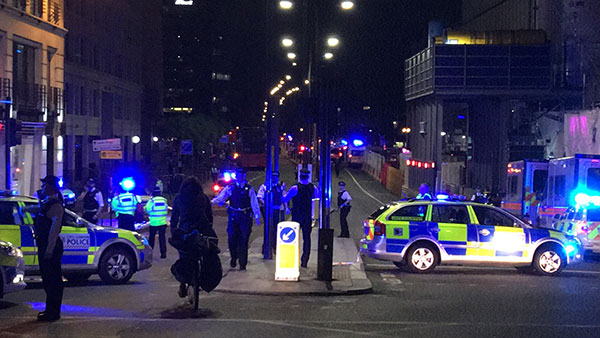 Police cars close off north entrance to London Bridge next to monument station after van ploughed into pedestrians. [Wang Bo / China Daily]
After eight people were killed and 48 injured in the London Bridge terrorist attack on June 3, a man attacked three policemen in Paris on June 6, shouting, "This is for Syria". Both attacks took place within two weeks of the May 22 terrorist attack in Manchester, in which 22 people were killed and more than 50 injured. And on June 8, some unidentified people threw explosives at the United States embassy in Ukraine, which, despite not causing any casualties, reflected the serious terrorist threats countries face today.
The fight against terrorism is becoming tougher. The recent attacks show the anti-terrorism mechanisms of European countries still have many loopholes. Before the Manchester attack, some US officials had warned the United Kingdom that Salman Abedi, the man suspected of carrying it out, received training from Islamic State terrorists, but the British authorities failed to properly monitor his activities.
Since the terrorist attacks come at a time when the IS group has suffered one blow after another in Syria and Iraq, they should be a warning to all-that the IS group can orchestrate more attacks elsewhere. Besides, to spread fear and cover its defeats in Iraq and Syria, the IS group might launch more attacks in the coming months.
As the main destination of the refugees fleeing the Middle East, Europe is also the main target of such attacks, and European governments need to be prepared for that. As such, the attacks are likely to influence European countries' domestic as well foreign policies. For example, in the UK, some people have been asking the British government to review its roles in the civil wars in Libya and Syria. The British government's failure to prevent terrorist attacks might also have influenced voters in the UK election last week, which saw the ruling Conservative Party losing absolute majority in parliament.
Increasingly, European countries have been taking stricter border control and other security measures. After a man from Uzbekistan drove a truck into pedestrians in Stockholm on April 7, killing four people and wounding 15, many European countries strengthened border control; the Manchester, London and Paris attacks have made them impose even stricter control.
Worse, the attacks will further divide European public opinions on granting asylum to refugees, especially from the Middle East. When the photograph of 3-year-old Aylan Kurdi, a Syrian refugee who (along with his mother and elder brother) drowned in the waters off Turkey while fleeing the civil war in Syria, was flashed across newspapers and news channels in Europe in September 2015, all Europeans were united in grief and seemed in favor of allowing refugees into their countries.
But as more terrorists in the garb of refugees seem to have entered Europe, many Europeans are losing sympathy for the refugees. On social networks such as Twitter and Facebook, for example, those sympathizing with the refugees find themselves cornered by the comments of many of their compatriots, who want safety and security for themselves and their families. If terrorist attacks continue, anti-refugee sentiments could rise in Europe, which in turn would prompt their governments to further strengthen border control.
The recent terrorist attacks may have taken place in Europe, but they are a lesson for China, too, especially as it pushes ahead with the Belt and Road Initiative. Two Chinese citizens, who were abducted by the Islamic State group from Quetta in Pakistan's southwest province of Balochistan at the end of May, have reportedly been executed.
Such incidents should prompt China to strengthen anti-terrorism cooperation with other countries and regions, so as to better protect all Chinese citizens, whether at home or abroad, from terrorist attacks. Security is the prerequisite of prosperity. That's something we should never forget while pushing forward the Belt and Road Initiative.
The author is a professor at the International Politics Department of the University of International Relations in Beijing.