Trump strains ties with Europe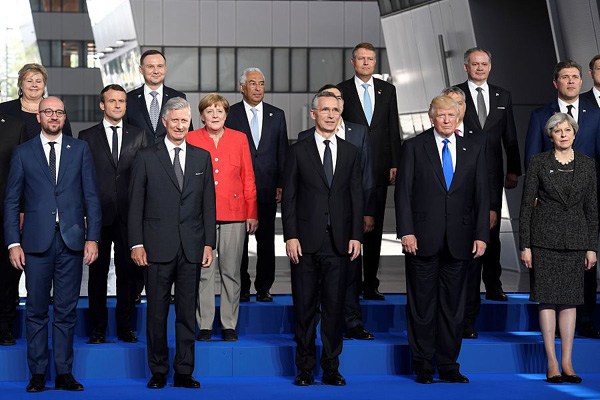 Leaders pose for a family picture during the NATO (North Atlantic Treaty Organization) summit at the NATO headquarters, in Brussels, May 25, 2017. [Photo/VCG]
While it gained a bumper economic harvest for the United States in the Middle East, the first overseas trip by Donald Trump as the US president seems to have widened an already-existing schism with his country's European allies.
Trump attended a series of political activities in Europe such as NATO and G7 summits, but he stoked discontent among European countries on almost every occasion.
Aside from fueling European countries' concerns about the reduced role of the US in their security affairs, Trump also rubbed salt in the wound by attacking Germany, saying when it comes to trade, Germans are "very bad", particularly when it comes to automobiles, and promising to somehow put an end to the problem.
Trump's remarks embarrassed Germany so much that German Chancellor Angela Merkel said, "Europe must be self-reliant and grasp its fate in its own hands."
At the NATO summit, Trump urged European countries to raise the percentage of their national incomes they spend on defense. At the G7 summit, Trump also brought unhappy experiences to European participants, by refraining from expressing the US' commitment to the Paris climate accord. In disregard of the wishes and efforts of the international community, including European countries, on this issue, Trump showed his priority is economic growth and employment back in the US.
The largest-ever chasm in US-Europe relations since the end of the Cold War means ties are at a critical juncture of reconsideration and readjustment. The consolidation of the trans-Atlantic community has been a prerequisite of US diplomacy since the end of the Cold War, with successive US presidents trying to maintain such an alliance.
Trump's European tour has undoubtedly chilled ties with Europe. And Merkel's calls for European self-reliance following Trump's visit may reflect a major change in the traditionally close ties between the US and Europe.