Anti-graft campaign must not hurt employees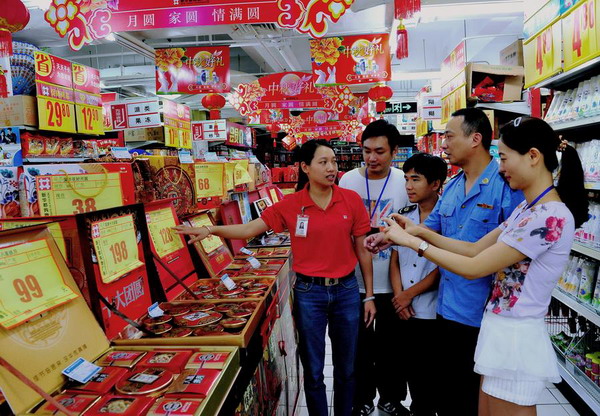 Inspectors from government agencies ask about mooncake sales at a supermarket in Yongtai county, Fujian province, Sept 16. Local disciplinary watchdogs and other authorities launched the joint crackdown on government officials and carders who use public funds to buy mooncakes. [Photo/Xinhua]
The ongoing anti-corruption campaign, intensified after 2012, is aimed at deterring officials from using their power to make illicit gains, and the anti-corruption rules prohibit officials from using public funds to buy personal comforts.
But the rules have unwittingly deprived many grassroots civil servants, and employees of public institutions and State-owned enterprises of some benefits which they otherwise deserve, because some officials have exercised excessive caution in their implementation for fear of being accused of wasting public funds.
Mooncakes during Mid-Autumn Festival, zongzi, or glutinous rice dumplings during Dragon Boat Festival and tangyuan, or sweet rice dumplings during Lantern Festival, are traditional presents that cost little but carry deep cultural meaning. Yet they have disappeared from official procurement lists.
Perhaps some officials believe the less money they spend, the less likely they will be investigated for abuse of power.
The central authorities, responding to public complaints, said in a notice in July 2014 that employees should not be denied their regular festival welfare. The notice also listed the types of gifts and the amount of money an employee can get during different festivals.
But some departmental heads and senior officials still ignore the notice. They should realize that, as long as they follow the central authorities' rules and the instructions on festival welfare, they cannot be accused of misconduct. Instead, festival greetings and gifts can strengthen cohesion in their departments and instill in the staff members a sense of belonging.
A large number of officials at various levels have been sacked or investigated for graft over the past five years. Yet none of them have been charged for distributing regular festival gifts among employees.
It is time the discipline authorities treated the denial of regular festival gifts to grassroots civil servants and employees of public institutions and SOEs as a form of misuse of power by some officials.
Giving some traditional gifts to employees during festivals has been a tradition in China. And since Chinese festivals face increasing challenges from Western festivals, it is all the more necessary to promote our traditions. The symbolic meaning of gifts is worth a lot more than their costs, as they convey love and create a bond between the giver and receiver.
Some people have come to believe that it is the anti-corruption drive, not some officials' cynical approach to the rules, that has robbed them of their regular festival welfare. The central authorities need to take measures to clear such misunderstandings because the ultimate goal of the anti-corruption campaign is to better serve the people.
Grassroots civil servants and employees of public institutions, in many cases, lack the means to protect their rights and interests. For instance, few, if any, would bother to report to the labor department or discipline watchdogs that they have been deprived of minor benefits for fear of offending their superiors. And if the higher authorities don't take measures to correct the situation, some officials might take it for granted that they have the power to deny the employees the small gifts they deserve during festivals.
Therefore, the discipline authorities need to make sure the implementation of anti-corruption rules does not cause accidental harm to ordinary people.
The author is a writer with China Daily.