Carry on cultural bloodline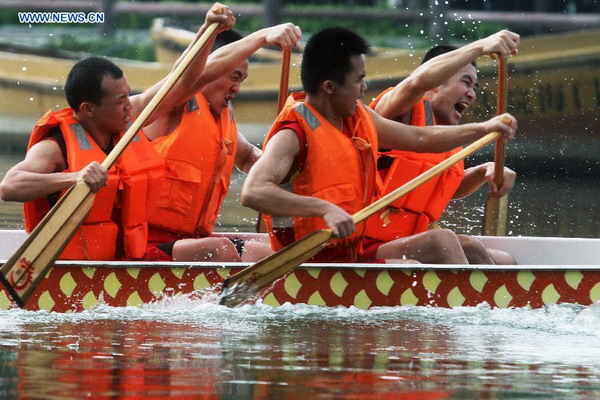 Dragon boat teams compete during a dragon boat competition to mark the Dragon Boat Festival in Xiamen, East China's Fujian Province, June 19, 2015.[Photo/Xinhua]
Traditional festivals, such as the Dragon Boat Festival, which falls on May 30 this year, are a continuation of the country's cultural bloodline, and more and more Chinese have come to realize their value. However, the essential natures of the various traditional festivals throughout the year are increasingly under huge pressure from commercialization. For instance, zongzi, the traditional rice dumplings that are indispensible to the Dragon Boat Festival, have become big money earners in some places, featuring exotic and expensive ingredients and luxurious packaging.
And for some people, the traditional festivals are simply an opportunity to have time off work and to dine, drink and make merry with friends and relatives. Yet only when we incorporate our traditional cultural values into our daily lives will they find a home deep in our hearts.
When it comes to the Dragon Boat Festival, if we want the cultural values embedded in the festival to be carried forward, activities such as making one's own zongzi at home should be extensively introduced to and popularized among ordinary people so the festival traditions can be maintained at an affordable-to-all cost. The organizers of Dragon Boat races should introduce them in neighborhoods and schools before the festival, so that more people can appreciate the traditional culture at a younger age. This would plant the seeds of traditional Chinese culture into young people's hearts, enabling it to blossom when they are adults.
Aside from popularizing the traditional activities associated with the various festivals, innovative methods should also be adopted to allow the traditional festivals to be commercialized without excess. For example, mascots and other products combining traditional and modern cultural elements could be made to celebrate specific festivals and sustain their popularity.
--GUANGZHOU DAILY