AlphaGo teaches to use AI to benefit humans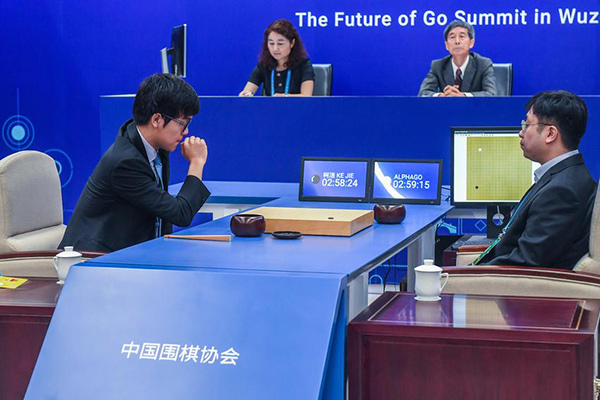 Ke Jie (left) plays against Google's AlphaGo in Wuzhen, East China's Zhejiang province, on May 23, 2017. [Photo/VCG]
AlphaGo, an artificial intelligence program, defeated China's top go player, 19-year-old Ke Jie, on Tuesday, the first day of five-day Future of Go Summit in Wuzhen, East China's Zhejiang province. The best-of-three contest now seems tilted in favor of AlphaGo, as many go experts feared.
This is not the first time that AlphaGo, developed by Google Deep Mind, is facing a human opponent. In March 2016, AlphaGo scored a 4:1 victory against world champion Lee Sedol of the Republic of Korea. And in January this year, it won 60 matches in a row against top human players from China, the ROK and Japan on several online go platforms.
In the intervening four months, developers at Google have further improved AlphaGo. That's why the majority of observers are not confident about Ke winning the contest against AlphaGo. When Ke confirmed via his social media micro blog account that he would take on AlphaGo at the May 23-27 go summit in Wuzhen, one of the best comments in the more than 4,600 "likes" was: "Ke, you are facing mission impossible; we are proud of you!"
Some people are worried that if AlphaGo wins against another top-ranked go player, it would lend further credence to the belief that AI can be superior to the best human brains. They even fear that if AI continues to develop at this pace, it might rule over humans in the future.
Such fears seem exaggerated. The Google-developed neuronal network featuring "deep learning algorithm" has been used to build AlphaGo. Essentially, AlphaGo is an imitation of the human brain in terms of learning ability. And it imitates the human brain better than other AI devices.
AlphaGo is almost unbeatable in go because of its fast computing ability, which allows it to review many moves and manuals within a very short time. But AIs are still incompetent when it comes to creative thinking.
In February 1996, the "Deep Blue" developed by IBM defeated then world chess champion Garry Kasparov. Since AlphaGo was developed about 20 years later and since go involves many more possibilities than chess, it is much more improved version of Deep Blue and has faster computing speed and more complicated algorithm.
What should truly arouse our concern is the competition in AI technology among different countries. As a highly advanced technological product, AI is a key index of a country's technological development. On April 1, iimedia.cn, a domestic technological website, released its 2017 China Artificial Intelligence Industry Report, which said the country's AI industry grew by 43.3 percent to 10.06 billion yuan ($1.46 billion) last year. This year the growth rate is estimated to be as high as 51.2 percent.
In late February, the Massachusetts Institute of Technology announced the "10 Breakthrough Technologies 2017" in its Technology Review, which included reinforcement learning, self-driving cars as well as paying with your face. Several domestic companies, such as iFly Tek, Alibaba and Baidu, have been conducting research in these areas. Also, the State Intellectual Property Office received 29,023 applications for patents related to AI technology last year.
That means China is doing well in AI research. But the problem is that only a few of the research results have been put into practical use. In the United States, universities, research institutions and enterprises have formed a "positive circle" to work with each other to turn creative ideas into innovative technologies to ultimately create revolutionary products.
China has many talented and hard-working researchers. It also has excellent entrepreneurs who strive to make breakthroughs in different fields. The need therefore is to link the two so that path-breaking research can be used to make innovative products.
The author is a writer with China Daily.
zhangzhouxiang@chinadaily.com.cn